Antonio Brown is one of the most lethal offensive players in the NFL and is paid far below his talent level. Still, Brown has two years to go on his contract and the Steelers have been insistent that they will not discuss a new deal with him at this time. Recently, the team engaged in talks with Brown's agent, but it doesn't appear that the organization is going to give in to the wide receiver's requests. The two sides are not talking at this time and it is very unlikely that the Steelers would entertain a new deal for Brown in 2016, according to Jason La Canfora of CBSSports.com (on Twitter).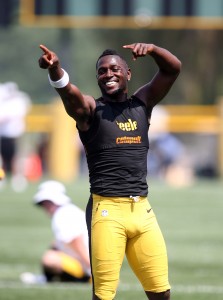 The Steelers have a policy not to renegotiate with non-quarterbacks until the final year of a player's deal and they do not want to make an exception for anyone – even a megastar like Brown. Universally considered an elite wide receiver, Brown is ranked 18th among wide receivers in terms of average annual compensation ($8.4MM/year). A quick look at the 17 receivers ahead of Brown shows that he has a legitimate case to be paid better (data via of Over The Cap):
Of course, Brown doesn't have a ton of leverage with two years before he can potentially hit the open market. In all likelihood, Brown won't get the big deal he is seeking until next year.
Follow @PFRumors