The one-year extension Drew Brees and the Saints agreed to earlier today will keep the quarterback off the free agent market come March, but the 37-year-old passer is not planning to retire after 2017.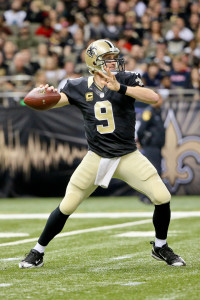 Brees plans to continue his career after '17 despite his extension adding just one more season, Larry Holder of NOLA.com reports (on Twitter). The quarterback, who was believed to be seeking a four-year commitment worth $100MM, viewed this compromise as the best deal for the team.
"I plan to play for longer than two years, so, yeah," Brees said, via Holder. "I think my mindset going into this was
to be able to secure a deal that would take me for as long as I plan on playing, but this was what was in the best interest of the team and so, that's why it was a two-year deal."
While the sides could be back here again next year, especially if the 16th-year quarterback continues the torrid pace he's set during his previous 10 seasons in New Orleans, Brees received the security he sought for next season. The prospect of one of this era's greatest quarterbacks venturing onto the market may have intrigued, but according to Mike Triplett of ESPN.com, Brees didn't want any part of that. Triplett reports Brees did not like the idea of being viewed as a player trying to cash in one more time.
Brees also told agent Tom Condon he wanted to complete a deal which would help with the Saints' cap, which has been a source of concern for the franchise the past few years. Brees stood to occupy $30MM of New Orleans' 2016 payroll. He'll now see that slashed to $17.5MM thanks to the extension, one that provides $44.25MM in guaranteed money.
"The cap situation to me was the most important element to this," he said. "Over the next few years, [we want to put] our team in the best position to keep talent and acquire talent and the right type of guys that fit what we're trying to accomplish here."
This represents the quarterback's first extension signed before his previous contract expired. The former second-round pick didn't see his Chargers deal renewed after 2005 and signed his second Saints accord after being franchise-tagged in 2012.
Photo courtesy of USA Today Sports Images.
Follow @PFRumors