After orchestrating the strangest quarterback succession plan for a defending Super Bowl champion in NFL history, John Elway has observed the Broncos get off to their fourth straight 2-0 start. However, the player he attempted to re-sign before the bidding escalated out of his comfort zone struggled in his first big audition with the Texans.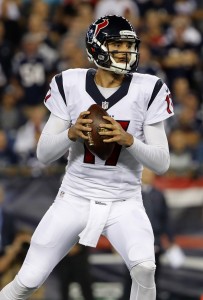 Brock Osweiler's second start against the Patriots came in a 27-0 New England victory Thursday night, and Elway, albeit in a lighthearted tone, addressed the events of this spring that led to Osweiler venturing to Houston and 2015 third-stringer Trevor Siemian eventually ascending to the Broncos' starting job.
"A lot of times those deals you don't make are the best ones," Elway told Dave Logan and Susie Wargin of KOA radio on Friday (via Mike Florio of Pro Football Talk).
"Obviously it was a tough night for Houston last night and — but things move on. You try to make the best decision when you have to make it. . . . Excluding last night, we really felt good with the way everything's fallen, the way we went into camp, and we're really excited with the guys who are playing the position for us now."
As Florio points out, Elway's initial response came with a lighthearted tone, but this is not the first time the sixth-year Broncos decision-maker opened up on the Osweiler situation.
In August, Elway pointed to Osweiler's perceived slight when the eventual Super Bowl champions benched him for Peyton Manning in Week 17 of last year. That comment came four months after Elway initially addressed the 25-year-old quarterback's defection in March.
The Broncos reportedly offered Osweiler $64MM before he signed the four-year, $72MM deal with the Texans but are now paying rookie-deal prices to their top two quarterbacks. The benching for Manning may well have induced Osweiler to seek a path elsewhere, so the Broncos might not have been battling on equal footing as they attempted to keep their former second-round pick in free agency. It's marked an interesting situation for both teams, who each started 2-0 with victories over a 2015 playoff team.
Osweiler completed 24-of-41 passes for 196 yards and an interception against the Jacoby Brissett-led Patriots. For the season, the 6-foot-7 passer has completed 60% of his throws (231.7 yards per game) and has thrown three touchdown passes and four INTs. Operating a more ground-based attack, Siemian's at 68% with 222 yards per game and one TD pass and three INTs.
Osweiler's exit helped free up funds for the Broncos to re-up potential 2017 free agents Brandon Marshall and Emmanuel Sanders this summer, and while it's not a given Siemian and Paxton Lynch will be a better investment yet, Denver has benefited from not having a franchise-quarterback salary on its payroll for the first time since 2011.
Photo courtesy of USA Today Sports Images.
Follow @PFRumors