The relationship between Las Vegas-based businessman Sheldon Adelson and Raiders owner Mark Davis hit a snag when Adelson expressed a desire to buy a piece of the team last week, according to Jason Cole of Bleacher Report (video link). Davis subsequently called Adelson's office in anger, per Cole, who adds that other NFL owners are wary of Adelson. Commissioner Roger Goodell, who works for the owners, expressed doubt Sunday that casino-filled Las Vegas would be a proper market for the league.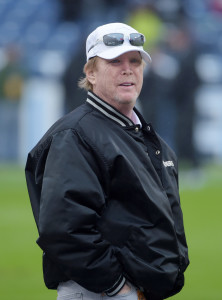 Alienating Adelson could cost the Raiders a chance to relocate to Vegas, as the 83-year-old casino owner is willing to contribute $650MM to a proposed $1.9 billion football stadium in the city. Previously, Adelson threatened to withdraw financial support without the approval of a record $750MM in public money going toward the venture. The Southern Nevada Tourism and Infrastructure Committee did approve that total last Thursday, thereby clearing one major hurdle. The next step is for the $1.9 billion plan to receive a thumbs up from Nevada Gov. Brian Sandoval and state Legislature.
Sandoval said Wednesday that he intends to begin a special session of the Legislature no earlier than Oct. 7 and no later than Oct. 13, reports Michelle Rindels of the Associated Press (Twitter link). Sandoval also revealed that he has recently spoken with Davis, who is eager to go forward with the plan.
"Just as I have met with the top leaders prior to those announcements, this week I met with the owner of the Raiders, Mark Davis. He was committed and resolute in the team's interest in relocating to our state," said Sandoval (via KTVN).
Given that Davis is still on board with Las Vegas, it seems his relationship with Adelson isn't ruined. Assuming the Legislature signs off on the high-priced stadium, Davis would still need 23 approval votes from the league's other 31 owners to move his franchise. If they're not comfortable with Adelson, it could dash Davis' hopes.
Photo courtesy of USA Today Sports Images.
Follow @PFRumors