A Thursday decision from the Southern Nevada Tourism and Infrastructure Committee represents another step toward the Raiders moving to Las Vegas. The committee tasked with presenting a funding plan for a prospective $1.9 billion stadium approved $750MM in public money to be used for this project, doing so after months of negotiations, according to an Associated Press report.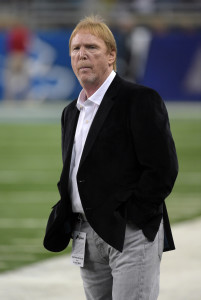 This proposal will still need to see approval from Nevada governor Brian Sandoval and the state legislature, but after the figure above brought some dispute within the SNTIC, today's decision represents a hurdle cleared in this process.
"We are excited and thanks to the committee," Mark Davis said via text to USA Today Sports (via ESPN.com).
Sheldon Adelson and Las Vegas Sands threatened to withdraw financial support if the $750MM threshold was not met; the committee needed to do so this month to meet a predetermined deadline, one that was already extended. We'd also previously heard the Raiders and Vegas were going to move on if the SNTIC didn't approve these funds, but the sides are clearly serious about this venture.
The plan for collecting public money stems from a hotel tax raise, similar to the Chargers' downtown stadium proposal in San Diego, and the Raiders are slated to contribute $500MM. Adelson is planning to put $650MM toward the venture, one that proponents of today's ruling hope to accelerate in order for Sandoval and the legislature to green-light it in time for an NFL vote in January.
The Raiders, who haven't been shy about relocating sans-sufficient NFL support, would still need to receive the customary 24 votes from the owners to move. Once thought to be against this proposal due to the gambling component, the NFL likely won't stand in the way of this project if it makes it through the state hurdles, Vincent Bonsignore of the Los Angeles Daily News tweets.
Photo courtesy of USA Today Sports Images.
Follow @PFRumors