Riding high after a dominant Week 3 win despite the involvement of a rookie third-string quarterback, the Patriots do not plan to deviate from how they've approached their most important position this season. Well, if they can help it.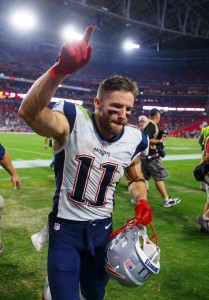 The Patriots will sign a quarterback before Week 4 only as a last-resort measure, Mike Florio of Pro Football Talk reports. They view the roster spot as valuable and don't want to send a player to waivers or free agency, depending on service time, unless it's absolutely necessary.
New England's already vanquished two 2015 playoff teams without Tom Brady and has used both Jimmy Garoppolo and Jacoby Brissett to do so. Respective shoulder and thumb injuries leave Garoppolo and Brissett questionable to be ready for the Pats' Week 4 Bills tilt — the team's final game before Brady is eligible to return from his suspension.
Conflicting reports have emerged about the respective availability of Brady's backups, with one indicating the team expects both to be able to suit up and another suggesting the team is hopeful at least one will.
Florio notes if word comes in Monday that gives a firm indication neither player will be ready to play by next weekend, the team could look to sign a quarterback. The Patriots brought in T.J. Yates and Sean Renfree last week but opted to sign neither. With it being unlikely the Pats would rule out either passer that early in the week, the team could again look to take its chances with Julian Edelman as a possible emergency quarterback.
Although, the former Kent State passer isn't the only non-quarterback on New England's roster with high-level signal-calling experience, as Florio points out. Second-year tight end A.J. Derby played quarterback at three schools — Iowa, Coffeyville (Kan.) Community College, and Arkansas — before being moved to tight end later during his Razorbacks stay. Edelman, though, has been in this system for eight seasons, and Derby threw just 42 passes in Division I competition. Despite his standing as a running quarterback, Edelman threw 706 in three seasons with the Golden Flashes.
Follow @PFRumors