SATURDAY, 8:35am: The Rams have released a statement (via Gary Klein of the Los Angeles Times):
"We are aware the city attorney filed charges today against T.J. McDonald stemming from his arrest in May. As this is an ongoing legal matter, it would be inappropriate to comment further at this time."
Jeff Fisher also commented on McDonald, noting that the defensive back did an admirable job of ignoring these distractions during last week's game.
"We were concerned with respect to the issues he was working through," the head coach said. "But we stood behind him the whole time, knowing that he would come back."
FRIDAY, 5:13pm: The Los Angeles City Attorney's Office announced Friday that it has charged Rams safety T.J. McDonald with one misdemeanor count of driving under the influence of drugs, reports Rich Hammond of the Los Angeles Daily News. If McDonald is found guilty, he could face up to six months in county jail and a $1k fine. The NFL could also discipline him.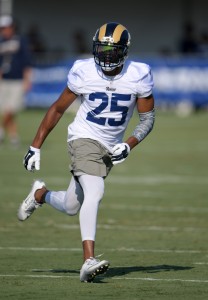 McDonald was arrested on suspicion of driving under the influence of a substance on May 10 in Woodland Hills, Calif., after police said he crashed into a parked car and seemed inebriated. It's not clear which substance police believe McDonald had used at the time, though Hammond notes that it could have been a narcotic, prescription drug or an over-the-counter drug.
On the field, the 25-year-old McDonald has started in all 38 of his appearances since the Rams selected him in the third round of the 2013 draft. Along the way, the former USC standout has accrued 229 tackles, including a career-high 105 in 2014, four sacks and two interceptions. He amassed eight tackles in the Rams' 28-0 loss to the 49ers in Week 1.
McDonald is the son of six-time Pro Bowler Tim McDonald, a former NFL defensive back who enjoyed a 13-year career with the Cardinals and 49ers.
Photo courtesy of USA Today Sports Images.
Follow @PFRumors