The Browns' Terrelle Pryor has played under head coach Hue Jackson with three different organizations since beginning his NFL career in 2011, and the wide receiver hopes the two remain together for the foreseeable future.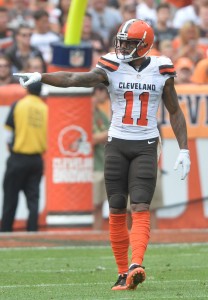 "I respect him very highly and if Hue Jackson's here, I'd love to stay here," Pryor told Mary Kay Cabot of cleveland.com on Thursday. "I want to be here if Hue's going to be here for awhile, because I know this is a building process — and it's not really. We're right the there. We're competing with everybody, we've just got to put teams away and I'd like to be where Hue's at."
Jackson holds similar reverence for Pryor, who's scheduled to become a free agent at season's end.
"There are a lot of things I know about Terrelle that maybe a lot of people don't. I'm talking about as far as what he is really capable of doing," said Jackson. "I would say to all of you that he hasn't even scratched the surface of what he is. He's growing each and every day as a football player, as a person. He's getting better, and his best football's still ahead of him by far."
Pryor also spoke highly of Cleveland, but he isn't aware of whether his representatives have begun extension talks with the team.
"Cleveland's awesome. The fans are are awesome," said the former Ohio State Buckeye. "But right now, I'm here and I'm going to try to get it done."
Pryor was a quarterback in college, and he began his pro career there after the Raiders chose him in the third round of the 2011 supplemental draft. The Raiders' coach at the time was Jackson, though Pryor didn't debut until 2012. By then, Jackson was out of Oakland and serving as an assistant in Cincinnati, where Pryor ended up last year after flaming out as a signal-caller and converting to receiver.
Jackson was instrumental in Pryor's position switch, notes Cabot, and the move is paying off for the Browns in 2016. Pryor has been a bright spot for the 0-3 club, having amassed 14 catches for 244 yards while occasionally factoring in as a rusher and passer. The 27-year-old is coming off a career-best showing, one in which he caught eight balls for 144 yards, ran four times for 21 yards and a touchdown, and completed 3 of 5 passes for 35 yards in a 30-24 loss to Miami.
As of now, Pryor looked primed to land a significant raise over his current $1.671MM salary, and it stands to reason the Browns could make an added push to retain him in light of fellow wideout Josh Gordon's decision to enter rehab Thursday. With the troubled Gordon likely out of the picture in Cleveland for good, the only potential high-end receiver the team has under its control beyond this season is rookie Corey Coleman. The first-round pick fared well over the season's first two weeks before breaking his hand in practice on Sept. 21.
Photo courtesy of USA Today Sports Images.
Follow @PFRumors