The NFL has suspended free agent fullback Derrick Coleman for the next four weeks, according to Field Yates of ESPN (Twitter link). Coleman pleaded guilty on Oct. 6 to vehicular-assault and hit-and-run charges stemming from a 2015 crash, per Sara Jean Green of the Seattle Times. Jail time is a possibility for Coleman, whose sentencing is scheduled for Friday.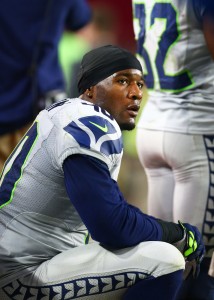 The past year has been a tumultuous one for Coleman, who appeared in 31 of the Seahawks' games from 2012-15 and was a member of their 2013 Super Bowl-winning team. Bellevue, Wash., police arrested Coleman last October after he was driving a Dodge pickup at a "high rate of speed" and struck a Honda Civic traveling the same direction, according to witnesses.
The police report indicates that Coleman's truck was going 60 in a 35 mph zone, and his foot was on the accelerator at 100 percent for several seconds. That pushed the other vehicle 260 feet off the roadway up a hill and caused it to flipped over. The driver went to the hospital with a head injury and a fractured left clavicle, while police found a barefoot Coleman two blocks from the scene. Coleman's lawyer said the accident dislodged Coleman's hearing aids, which may have left him disoriented and led to his departure from the scene. Coleman admitted to smoking a form of synthetic marijuana, not illegal in Washington, an hour before the collision.
Prior to joining the Seahawks, the 25-year-old Coleman was a notable contributor at UCLA, where he rushed for 1,780 yards in four years and earned second-team All-Pac-12 honors as a senior. Coleman's NFL career began with the Vikings, who signed him as an undrafted free agent in 2012.
Photo courtesy of USA Today Sports Images.
Follow @PFRumors