The Cardinals listed John Brown as doubtful for Sunday night's game against the Seahawks, and it's now believed a sickle-cell trait is contributing to why.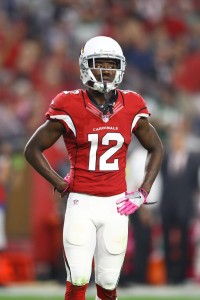 Inconclusive MRIs led the Cardinals to conduct blood tests, and Darren Urban of AZCardinals.com notes those revealed this condition is causing the third-year pass-catcher's hamstring pain. Brown's dealt with constant leg discomfort over the past two seasons, and this diagnosis helps explain the issues.
Sickle-cell-afflicted people often don't see symptoms arise, but muscle pain can be one of them in certain cases, Bob McManaman of the Arizona Daily Republic writes. Bruce Arians said Friday this is likely the cause of the former third-round pick's frequent leg pain last season. Although it's not curable, it's a treatable condition, one that retired safety Ryan Clark played with during his lengthy career.
"We're investigating how to help him," Arians said. "I think he's very happy that he found out why his legs are hurting so bad."
Brown continued the Cardinals' borderline-historic run with third-round picks under Arians, whose team selected Tyrann Mathieu, Brown and David Johnson in this round from 2013-15. The 26-year-old target hasn't gotten off to the same kind of start that pushed him past 1,000 yards last season. The former Division II All-American has 24 receptions for 301 yards and no touchdowns thus far. He jumped from 696 yards as a rookie to 1,003 as a second-year player, one who could take on a bigger role in 2017 if Michael Floyd departs as a free agent or Larry Fitzgerald decides to retire.
Photo courtesy of USA Today Sports Images.
Follow @PFRumors