Take this one for what it's worth. Actor Tom Arnold (yup, that's not a typo) recently told ESPN's Paul Finebaum that Alabama coach Nick Saban expressed interest in the Giants head coach opening this past offseason. According to Arnold, the team had already finalized a deal with eventual head coach Ben McAdoo when Saban threw his name into the ring.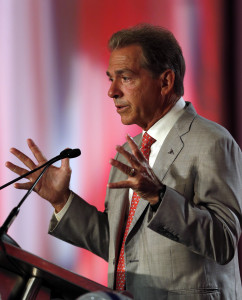 "They got his deal done with [Ben McAdoo] and they are ready to sign him, and they get a call from Bob Ehrman [an intermediary] who says Nick Saban wants the job," Arnold said (via Hannah Withiam of the New York Post). "So they had to stop. This is a Saturday night. They said, 'You have until Sunday morning at 8 a.m. to say a definite yes. Tell us what he needs for money.' 'Well, he needs $10 million to start with and this is the deal. He has to get it approved by his wife right.' Well, he has to get it approved by his wife right this second because we have a coach on the string here. But if he wants to do it, it has to be right this second. So he had until Sunday morning at 8 a.m. and it didn't work out. But it was close."
We wouldn't consider Arnold a legitimate source for NFL rumors, although the comedian is good friends with Giants owner Steve Tisch. When asked if there was any legitimacy to the reports, a team spokesman responded "no." Of course, at this point, you wouldn't necessarily expect the organization to acknowledge that they nearly backed out of their deal with McAdoo in order to sign the Alabama coach. James Kratch of NJ Advance Media questions Arnold's timeline (via Twitter), although he acknowledges that "the details seem rather legit."
Saban, 64, didn't have much success during his first stint in the NFL, leading the Dolphins to a 15-17 record in two seasons with the team. Since that time, Saban has led Alabama to four National Championships, and he also earned the AP National Coach of the Year award in 2008. As Withiam writes, Saban's "extraordinary success at the college level has earned him respect from professional organizations." Therefore, it's not farfetched that the team would have at least considered hiring the coach.
McAdoo has done an admirable job during his first season as head coach of the Giants, leading the team to a 4-3 record. The former Giants offensive coordinator replaced long-time Giants coach Tom Coughlin this past offseason.
Photo courtesy of USA Today Sports Images.
Follow @PFRumors