The Packers have not engaged guard T.J. Lang in extension negotiations, Lang tells Bob McGinn of the Milwaukee Journal Sentinel. Lang reiterated that his preference is to stay in Green Bay for the long term.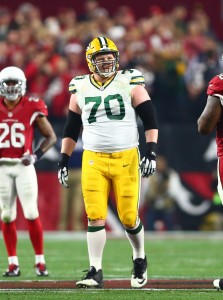 [RELATED: Green Bay Packers Depth Chart]
The Packers have addressed a potential Lang extension in a similar fashion to how they handled the situation with Josh Sitton before he was released, according to McGinn. In other words, Green Bay general manager Ted Thompson informed Lang — as he did Sitton — that the club would target long-term deals with younger players before moving on to Lang. As McGinn notes, the Packers could likely save money by extending Lang now rather than waiting until he officially hits the market, but no deal appears to be in sight.
"Ted doesn't give a rat's (expletive) about PR," said an NFL executive about the reaction to Sitton's release. "You take a PR hit like that, you would try to (extend Lang). But Ted is not motivated to do stuff like that."
Green Bay has experienced a drop-off from Sitton to current left guard Lane Taylor, several scouts told McGinn, so it could be difficult for the club to absorb the loss of Lang, as well. But with other players such as Nick Perry, J.C. Tretter, and Datone Jones also heading for free agency, and left tackle David Bakhtiari already having scored an extension, the money might not be there for Lang. One executive told McGinn that he would expect Lang to command $8-10MM on the open market.
"When they get to market, man, it is the wild, wild west," said the exec. "Most of these guys, if they're top three or top five in the free-agent class, they are going to get paid, and a lot more than they should. Most agents, when it gets halfway through the season, they say, 'Hey, let's go to market.' It usually blows your mind what these guys get."
Photo courtesy of USA Today Sports Images.
Follow @PFRumors