The Colts managed to win their Week 5 game despite coming off the London trip without a bye, but they're not exactly on the level they were during the early years of Andrew Luck's career, having gone 10-11 over the past 21 games. Ryan Grigson's served as GM since the team's latest franchise quarterback arrived and has come under fire for some of the organization's decisions in recent years and most recently his comments regarding Luck's contract constraining the team from building a defense.
He spoke with WTHR's Bob Kravitz about some of the primary issues facing the team.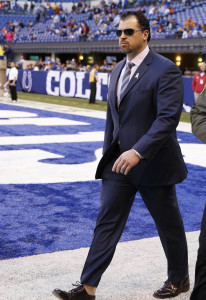 On the Colts' track record in the drafts for which he was responsible:
"If you went just chronologically, 2012 is arguably one of the best drafts in Colts history. I say that with a straight face; I don't know if there is one better. [Is] 2013 as good as 2012 was? You know, it wasn't. But I do include Vontae [Davis] in that group; he was a second-round pick that we used for that draft [via trade], and he ended up being our second-most impactful player, I would say, on our team the last five years. I think it's fair to say. But from '14 through '16, we've got 11 starters, and in the last two years, I think we've done really well, and have really nailed the last two drafts."
On the team's somewhat maligned reputation in bringing in outside free agents in recent years.
"Not good enough. A lot of times going in, it is a losing proposition. A lot of times the house does win with free agency, and that's the old adage, and that's something that Jim Irsay's even exclaimed. … It's got to be better, and now we're going to have to be a lot more selective with our free agents. … But the other thing, I think, that gets left out of the equation a lot is how our contracts are structured for these free agents. We have a lot of flexibility in the out years, and it keeps us in really good cap health because we've been very disciplined in our approach from a cap sense."
On the notion Indianapolis' defense — currently ranked 30th — will be more of a grass-roots build because of the extensions given to Luck, T.Y. Hilton and Anthony Castonzo.
"I'm being completely transparent of where we are fiscally, the environment we're in when you make those type of investments. Not only signing your own and the huge contracts we did — and that's T.Y., [Castonzo], all those guys including our quarterback — you're in a different fiscal environment than you've ever been in before. That's just the facts. That's reality. But we have to be able to, within that environment, we have to be able to hit like no other on the draft; those select free agents that we are able to sign, that we do have the funds to sign, we have to nail them.
"I have to be able to find [contributors] late in the draft, because our resources are shrunk to a degree. I do like always trying to acquire extra picks, and we've been successful doing that in every draft for the most part, so the more picks you get, the better; the more comp picks you get, the better."
Photo courtesy of USA Today Sports Images.
Follow @PFRumors