When the Colts signed quarterback Andrew Luck to a record-breaking six-year, $140MM contract, the team was probably anticipating (at the very least) consistent playoff appearances. They certainly weren't expecting a disappointing 1-3 start to the 2016 season.
The Colts have struggled mightily through the first month of the season. The offensive line has allowed a league-high 15 sacks, while the defense ranks towards the bottom of the league in both yards and points allowed. Most pundits would attribute the Colts' problems to their head coach, Chuck Pagano. Perhaps they'd rather blame the architect of the roster, general manager Ryan Grigson. However, in a recent interview on Jay Mohr Sports, Grigson actually placed the blame on Luck's giant contract.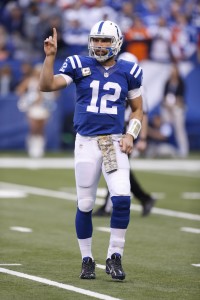 "On defense, we've never come out and said it's Super Bowl or bust this year," Grigson said (via Jeremy Bergman of NFL.com). "We have a defense that is a work in progress. … Once we paid Andrew (Luck) what we did, it's going to take some time to build on the other side of the ball."
Sure, Luck's $24.6MM salary for 2016 is the highest in the league, but the contract shouldn't prevent the organization from building a solid squad around their franchise player. As Jason Fitzgerald of OverTheCap.com writes, Luck's contract isn't a "position buster," meaning his deal isn't egregious when compared to the fifth-highest player at his position. Signing a player to such a contract means the team may have to sacrifice "two low level veteran depth guys for younger talent." However, as Fitzgerald notes, that "should not change the top level composition of the team."
Futhermore, Luck's contract shouldn't restrict the Colts from making moves in the future, either. Over the next six seasons, Luck's contract will never account for more than 15-percent of the cap. For comparison's sake, Peyton Manning accounted for a similar amount of the Broncos cap last season, and that team managed to win a Super Bowl behind an elite defense. Plus, the team ranks 19th in total contract value per year, which (if managed properly) shouldn't prevent the team from building a solid foundation around Luck.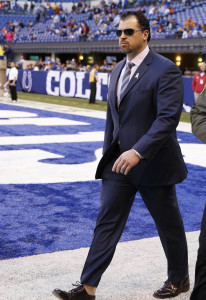 The team's biggest offseason signings on defense, cornerbacks Patrick Robinson and Antonio Cromartie, haven't played a significant role in 2016, and the latter was even released earlier this week. Meanwhile, Grigson has only used 16 of his 38 draft picks on defensive players, which
makes it tough to develop a talented and productive unit. Fitzgerald notes that the team has also overspent on free agents Gosder Cherilus, LaRon Landry, and Greg Toler in recent years. They haven't drafted a Pro Bowler since 2012, and they sent out another first-rounder for running back Trent Richardson. When you look at it that way, it's especially hard to blame the quarterback's contract.
When all is said and done, the Colts should have anticipated this "predicament." Fitzgerald estimates that a team should expect to spend at least $19.5MM a season on a franchise quarterback, and plenty of teams have succeeded despite paying that kind of money. Furthermore, the team failed to take advantage of Luck's team-friendly rookie contract, another slight on Grigson's shaky record.
Fortunately, there's reason for optimism, Colts fans: Grigson isn't panicking!
"The thing about is, we're all accountable," Grigson said. "Myself is accountable. Our coach always brings that up to the team constantly, we're all accountable in this thing. We're accountable to ourselves. We're accountable to our owner, the horseshoe and all that. … Coach and I have a lot of faith in this team. It's an early season. There are a lot of good 1-3 teams right now. There's no reason to panic."
However, if the Colts continue to struggle and Grigson continues to displace the blame, the general manager's attitude will undoubtedly change.
Follow @PFRumors