Earlier this month, the prospect of tampering charges being levied against the Commanders for their potential interest in Andrew Luck in the 2022 offseason was raised. Now, however, no further action appears set to take place.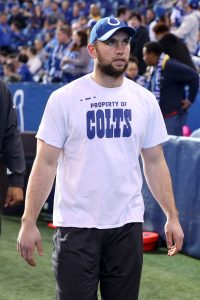 Washington reportedly showed interest in the former Colts quarterback last offseason as part of their attempt to land a veteran passer, an effort which ultimately yielded a trade for Carson Wentz. With Luck still under contract to Indianapolis, though, they would need to be made aware of any conversations interested teams had in bringing the former No. 1 pick out of retirement.
The Colts began an investigation into the specifics of conversations Washington had regarding Luck, though it was reported almost immediately thereafter that no one from the Commanders made any direct contact with him. Despite a very public response from Colts owner Jim Irsay on the situation, it was thus expected that little (if anything) would come of the matter with respect to league discipline.
Indeed, Mark Maske and Nicki Jhabvala of the Washington Post report that a lack of hard evidence tying the Commanders to Luck means this situation is likely to "fade away." That represents a stark contrast to recent history on the tampering front; the Dolphins were docked a first- and third-round pick among other punishments last year for inappropriate negotiations with Tom Brady and Sean Payton, while the Cardinals and Eagles worked out a swap of draft picks to resolve the process by which Jonathan Gannon became Arizona's head coach.
Despite the fact that the league "does not appear" to have investigated the Luck situation, per the Post, ESPN's Stephen Holder notes that the Colts are now satisfied with the matter. Holder confirms that the Commanders "never spoke to Luck or anyone in his immediate circle," meaning no violation of the league's anti-tampering policy occurred.
With Luck still fully expected to remain retired, as he has been since 2019, this situation coming to a close without further incident will allow both teams to move forward in their chosen directions under center. With Wentz having been released, the Commanders have committed to 2022 fifth-rounder Sam Howell as their starter, while the Colts believe they have their long-term answer at the position in the form of Anthony Richardson, selected fourth overall in this year's draft.