Though there were four finalists for QB Deshaun Watson before the Browns and Texans completed the blockbuster trade that sent Watson to Cleveland, as many as 10 teams were reportedly interested in Watson's services. In remarks he made following the trade, Houston GM Nick Caserio would not say exactly how many teams made inquiries, but he did note that the interest went beyond the Browns, Saints, Panthers, and Falcons.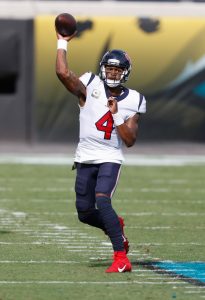 "I would say there was a fair amount of teams, but what we tried to do was bring the teams that had a legitimate interest, and that was based off the compensation that was presented," Caserio said (via Mike Florio of Pro Football Talk). "I don't want to get into the exact number, but there was a few more, however many teams than what everybody was reporting towards the end."
Caserio's comments confirm what had been reported all along: only clubs that were willing to meet the Texans' steep asking price (three first-rounders and more) were granted permission to have an in-person meeting with Watson. While that seems like the only logical move in hindsight, it was quite a masterstroke by Caserio. Had he allowed Watson to meet with all interested clubs, regardless of proposed compensation, Watson may have decided to waive his no-trade clause for only one team, thereby undermining Caserio's leverage. But as Florio observes, by having a "pre-qualifying" process, Caserio guaranteed that he would get what he wanted before Watson truly got a say in his next destination.
Per Florio, the Colts put feelers out to the Texans, but Caserio was not willing to deal Watson within his division. Aaron Wilson of Pro Football Network reports that the Eagles remained interested throughout the process, but Watson was unwilling to waive his no-trade clause for Philadelphia, largely because he is friends with Eagles QB Jalen Hurts and did not want to take away Hurts' starting job. Wilson adds that the 49ers also placed a call to the Texans last year.
Caserio suggested that reports on the Texans' being interested in players as well as picks in a Watson swap were at least somewhat overstated, saying, "I would say other than three first-round picks, I would say probably the rest of it was a little bit of speculation." Still, Wilson reports that if Houston swung a deal with the Falcons, Atlanta CB AJ Terrell would have been intriguing to Caserio, and if the Saints had been able to acquire Watson, New Orleans OLs Erik McCoy and/or Cesar Ruiz might have been a part of the package heading back to the Texans.
In the end, the Browns, who were initially believed to be out of the running for Watson, were able to acquire the three-time Pro Bowler because they were willing to give him a contract — five years for a fully-guaranteed $230MM, which Wilson reports includes a $45MM signing bonus — that other teams were not comfortable matching. We heard at the time the Cleveland-Houston deal was consummated that the financial side of the equation became untenable for the Falcons and Panthers, and Wilson confirmed in a separate piece that Carolina was resistant to a fully-guaranteed pact.
Cleveland may have felt compelled to make such a bold strike because of an unsalvageable situation with Baker Mayfield. Mayfield requested a trade while the Browns' courtship of Watson was ongoing, and when it appeared that Watson would not waive his no-trade clause to facilitate a move to northeast Ohio, the Browns indicated they would not accommodate the request. However, as Mary Kay Cabot of Cleveland.com writes, Mayfield had no intentions of playing for the Browns in 2022 even if the club had not acquired Watson, and that reality could have forced Cleveland's hand.
According to Cabot, the Browns had made it clear to Mayfield's camp that they would pursue a top-flight QB this offseason, but that they were content to run it back with the No. 1 overall pick of the 2018 draft if such a pursuit were unsuccessful. Because it had been upfront with him about its intentions, the organization believed it could eventually smooth things over with Mayfield. As we heard last week, though, Mayfield declined owner Jimmy Haslam's offer to fly out to Mayfield's home to discuss the situation, which was a clear indication that there was trouble in paradise.
Cabot further reports that the Watson situation and the team's comments that it was looking for an "adult" at the quarterback position — thus implying that Mayfield is not, in fact, an adult — merely represented the final straw. Mayfield was said to have issues with HC Kevin Stefanski's play-calling and scheme, and as Stefanski will retain play-calling duties in 2022, Mayfield was prepared to skip the Browns' offseason program and minicamp in an effort to force a trade to a team that has an offense more conducive to his skill-set. As Mayfield is eligible for free agency in 2023, the upcoming season is obviously critical for him, both from a financial and on-field perspective.
We recently learned that Mayfield would prefer to be traded to the Colts. Cabot suggests that, if Indianapolis GM Chris Ballard is interested, he may require the Browns to pay at least some of Mayfield's $18.9MM salary, and since Cleveland has no choice but to deal Mayfield at this point, the team's leverage in that regard and in terms of trade compensation is fairly limited.
Both Cabot and Bob Condotta of the Seattle Times confirm that the Seahawks may be interested in Mayfield but are genuinely excited by Drew Lock, who recently came to Seattle in the trade that sent Russell Wilson to the Broncos. As for the Texans, Caserio was non-committal when asked if Davis Mills, who started 11 games as a rookie in 2021 and who showed marked improvement down the stretch, would remain Houston's QB1. Nonetheless, Mills is expected to open the 2022 campaign as the starting signal-caller, despite Caserio's comments that the team is "starting from scratch" at the most important position in sports.
Follow @PFRumors