The Colts have agreed to trade Carson Wentz to the Washington Commanders (Twitter link via Adam Schefter of ESPN.com). In exchange, the Commanders will send their 2022 third-round pick and their 2023 third-round pick to the Colts. The '23 third-rounder can also convert to a second-round choice if Wentz plays on 70% of Washington's snaps in 2022. The deal will also see a swap of second-round picks with the Colts moving from No. 47 to No. 42. Schefter adds that the Commanders are also receiving the Colts' 2022 seventh-round pick (Twitter link).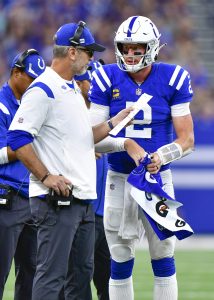 [RELATED: Details On Commanders' Offer For Russell Wilson]
Colts GM Chris Ballard recently indicated that he was "still working through" the Wentz situation with head coach Frank Reich and owner Jim Irsay. Ultimately, following Tuesday's Russell Wilson blockbuster, they've chosen to move their own starter and reshape the quarterback position. The Colts — who already had about $37MM in available cap room — have carved out even more space by trading Wentz.
"When we made the decision, after Philip [Rivers] retired and we made the decision to make a move on Carson, at the time of the decision we felt good about it and I still don't regret the decision at the time," Ballard said in January. "Sitting here today, just so y'all know, I won't make a comment on who is going to be here next year and who is not going to be here next year. That's not fair to any player."
The QB was widely panned for his Week 18 performance against the Jaguars, the loss that cost the Colts a playoff berth. He also clashed with team brass throughout the year and even rankled Irsay. Still, despite all the issues, Wentz managed to finish the year with a 27-7 TD-INT ratio while placing ninth in league-wide QBR.
The Commanders were previously linked to Wilson and said to have interest in 49ers signal caller Jimmy Garoppolo. Ultimately, they didn't want to wait on the Niners, choosing instead to pivot to Wentz. (The Colts, meanwhile, could consider Jimmy G as their next QB, as Ian Rapoport of NFL.com tweets.)
Wentz, 30 in December, may be a consolation prize, but he's still a strong pickup Ron Rivera & Co. They'll have Wentz under contract at a $22MM salary this year with a $6.294MM roster bonus. After that, they've got him for two more seasons. In 2023, he's due $20MM in salary with a $6.176MM roster bonus. In 2024, that salary increases to $21MM with a $6.235MM bonus payout.
The Colts will now move on to their fifth starting quarterback in Ballard's sixth year at the helm. So far, they've gone through Jacoby Brissett, Andrew Luck, Rivers, and Wentz — none of those players served as the primary starter in back-to-back seasons. Now, Wentz is out less than one year after his arrival in Indianapolis.
As noted by ESPN.com's Field Yates (on Twitter), the Colts sent a 2021 third-round pick and a 2022 first-round choice to the Eagles for Wentz. The Colts now have one rocky year and significantly less draft capital to show for it. The Eagles, meanwhile, went on to parlay the third-rounder into a trade up for DeVonta Smith, and they're still set to pick at No. 16 overall in April.
Follow @PFRumors