While Carson Wentz rebounded from last year's ugly Eagles season, his performance in the Colts' final two games did the most to prevent the team from qualifying for the playoffs. The veteran passer's Indianapolis future is somewhat uncertain.
Wentz is signed through 2024, and the Eagles took on a record dead-money sum by trading him less than two years after authorizing a big-ticket extension. As a result, the Colts have Wentz on a more manageable contract. GM Chris Ballard's endorsement of his starter, however, was less than ideal.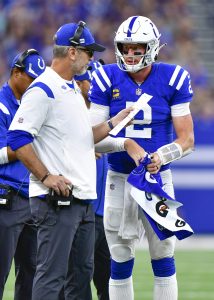 "When we made the decision, after Philip [Rivers] retired and we made the decision to make a move on Carson, at the time of the decision we felt good about it and I still don't regret the decision at the time," Ballard said, via Mike Wells of ESPN.com. "Sitting here today, just so y'all know, I won't make a comment on who is going to be here next year and who is not going to be here next year. That's not fair to any player."
Ballard was a bit more comfortable discussing Quenton Nelson's future with the franchise, but the dominant guard's status is not exactly in question. The Colts have used four different starting quarterbacks during Ballard's five-year GM tenure — Jacoby Brissett, Andrew Luck, Rivers and Wentz — and none has been the primary starter in back-to-back seasons. This has limited one of the NFL's better rosters, one that sent seven players to the Pro Bowl this season.
Should the Colts unload Wentz before June 1, a $15MM dead-cap hit would come their way. The team does have the former No. 2 overall pick attached to sub-$28MM cap numbers from 2022-24. As quarterback salaries move beyond $40MM annually, Wentz's deal is becoming a middle-class QB pact.
Wentz, 29, did finish 10th in QBR this season and ended his first Indianapolis slate with a 27-7 TD-INT ratio. Following his positive COVID-19 test, however, poor performances led to the Colts losing as a favorite against the Raiders and a two-touchdown favorite against the Jaguars.
"I'd like to quit Band-Aiding it," Ballard said. "I'd like for Carson to be the long-term answer or find somebody who will be here for the next 10-12 years. Sometimes it doesn't work out that way. I can dream about it, wish about it, do everything I can to figure out the solution, but you do the best with what you can do at the time."
With select QBs expected to be available this year, it is not a lock Wentz returns. The Colts did give up first- and third-round picks for him, certainly limiting their draft options at the position. And given Wentz's history with Frank Reich and progress as a whole in 2021, a second season in Indy should probably still be the expectation. But Ballard's comments make this a situation worth monitoring.
"At the end of the day, I think we have a lot of really good players and really good pieces. You have to get stability at the quarterback position," Ballard said. "That position has to play up to his potential to help the team win. I'm not blaming this all on Carson. I'm not because everybody else has to do their job, too.
"But the hyper-importance of that position, it's real. You have to get consistency there. The years we've gotten it we've been pretty good, and we thought we had it until the end of the season. Something we have to continue to work through."
Follow @PFRumors