It has felt like a foregone conclusion for a few weeks now, but the Eagles have officially secured the Colts' 2022 first-round pick under the terms of the Carson Wentz trade that the two clubs consummated back in February. In exchange for Wentz, Indianapolis gave up a 2021 third-rounder and a conditional 2022 second-rounder that would turn into a first-round choice if Wentz played 75% of the Colts' offensive snaps this year (or if he played in 70% of the snaps and Indy qualified for the postseason).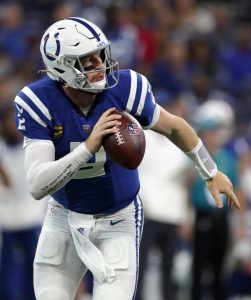 After last night's victory over the Patriots, Wentz has now played enough snaps to ensure that, even if he were to miss the next three games for some reason, he will not fall below the 75% threshold (h/t Mike Florio of Pro Football Talk). As such, Philadelphia will now be armed with three first-round selections in the 2022 draft (the Colts', the Dolphins', and their own).
Unfortunately for the Eagles, the Indy and Miami picks are not looking as valuable as they were a few weeks ago. The 'Fins are in the midst of a five-game winning streak (and are favored to defeat the Jets today), and after a 1-3 start, the Colts have improved to 8-6 on the season.
Even if Philadelphia doesn't end up with any top-10 selections, having three first-round choices in any draft is an enviable scenario. Of course, the big question is whether the Eagles will try to package those picks to trade for a veteran quarterback or to move up the draft board to secure a top collegiate passer.
Jalen Hurts' recent run of quality play led to some chatter that the club was comfortable enough with him under center to use its draft capital on other areas of need, but Hurts' terrible showing against the Giants in Week 12 and reports about an organizational divide on his long-term viability have reopened the conversation about the Eagles' quarterback plans.
Follow @PFRumors