Jim Irsay is one of the most forthcoming owners in sports, and he was once again an open book when giving an end of year press conference earlier this week. Irsay spoke on a number of topics very relevant to Colts fans, as well as the league as a whole. Let's start with the question everyone wants answered every few months, Andrew Luck.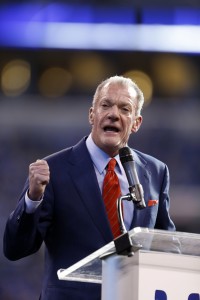 Irsay once again reiterated that he'd love to have Luck back, and that the door is wide open on their end. "He knows we would love to have him back,'' Irsay said, via Mike Chappell of Fox 59. "But only he can answer that question deep in his heart and his soul: 'Hey, do I really want to come back and be a quarterback for the Colts again in the NFL?' It's easy for us. He knows how much we'd love to have him be our quarterback." It doesn't sound like he's banking on it, but he's clearly at least still holding out hope. "He knows that he can come back anytime he wants, but at the same time we respect he's made that decision.''
Luck is still only 31, so he's got plenty of time if the early retiree ever does change his mind. Irsay also talked about the immediate. quarterback situation with Philip Rivers electing to retire this offseason. Irsay said the team believes they're another quarterback away from being Super Bowl contenders, and they do have a very talented nucleus and great coaching staff.
He did caution that the team wouldn't make a move just for the sake of making one, saying "we just have to make sure we go in the right direction without setting ourselves back as we pursue the new quarterback frontier." When you couple that with GM Chris Ballard recently hinting that he doesn't want to draft a quarterback in the first-round, it really sounds like the Colts would prefer an established veteran.
Indy has been linked to Matthew Stafford, although Stafford is far from the only experienced quarterback who will be available in what should be an unprecedented offseason for signal-caller movement. Finally, Irsay also talked about impending free agent T.Y. Hilton, saying the team wants him back but acknowledging that money issues could prevent that.
"We'd love to see T.Y. back. There's no question about it,'' Irsay said, before immediately adding "look, there's a business side to it." He went on to say "you want a guy back, but it has to fit into what you view, what the marketplace dictates. It really comes down to that. The biggest thing I've found is you want guys who really want to be here, and so sometimes if they don't hit their price mark, you don't want them to be resentful."
Hilton is 31 now and got off to a slow start in 2020 before developing a rhythm with Rivers and breaking out down the stretch. He's past his prime physically but showed in the second half he's still got a good amount left in the tank. It'll be very interesting to see what kind of contract the Colts legend lands this offseason.
Photo courtesy of USA Today Sports Images.
Follow @PFRumors