SUNDAY, 10:59am: Wilson solicited the opinion of several highly-respected doctors on the severity of Newton's injury. The entire piece is worth a read, but the upshot is that Newton should be able to resume his career and regain nearly full recovery of knee motion. Unsurprisingly, however, the injury could prevent him from reaching his former level of performance, although he should be able to at least come close to that standard.
THURSDAY, 7:50pm: After suffering a gruesome injury on Monday Night Football, Texans offensive tackle Derek Newton underwent surgery today to repair his two torn patellar tendons, according to Aaron Wilson of the Houston Chronicle. Luckily, Newton did not tear either of his ACLs, but still faces a lengthy recovery that will include time in wheelchair. He's unlikely to walk again for three months.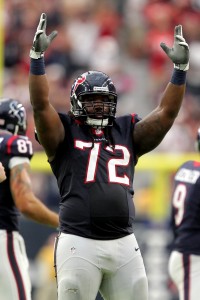 [RELATED: Texans Place Kevin Johnson On IR]
"I am not aware of an NFL athlete, who came back to play at a similar level after this injury," said former Chargers doctor David Chao, per Wilson in a separate article. "The injury is very rare. It's not a once-a-year injury. This is a once-every five years. This is harder to come back from than a torn ACL. To have two of them is devastating, but, yes, he should be walking in three months. There's a big difference between walking and playing."
Torn patellar tendons have derailed the careers of other NFLers — including defensive back Gary Baxter and wide receiver Wendell Davis — in the past, as Wilson notes. But the Texans reportedly are expressing "guarded optimism" about Newton's ability to resume playing, thanks both to advances in injury science and Newton's work ethic.
Newton, who will be replaced at right tackle by veteran Chris Clark, signed a five-year extension prior to the 2015 season that contained $10MM in guarantees. The 28-year-old Newton has been a full-time starter for the Texans since 2012, and has 82 career appearances under his belt.
Photo courtesy of USA Today Sports Images.
Follow @PFRumors