5Bears wide receiver Alshon Jeffery has been suspended four games for violating the league's PED policy, the league announced. This suspension comes at a horrendous time for Jeffery as he is poised to be one of the top players on the free agent market this offseason. As it stands now, Jeffery will be out through Dec. 11th against the Lions. Jeffery could postpone the suspension with an appeal and, of course, could get it overturned if he were to win.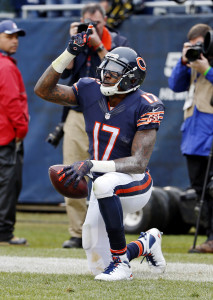 The Bears have been wrestling with what to do about Jeffery this offseason and today's PED ban could help inform their decision. Through nine games this year, Jeffery has 40 catches for 630 yards and one touchdown, numbers that are not quite on pace with his best work.
The wideout has released the following statement (via Rand Getlin on Twitter):
"As a professional athlete, I have been careful about what I put in my body. I took a recommended supplement to combat inflammation. Unfortunately this supplement contained an ingredient that was on the NFL's banned substance list. I take full responsibility and I'm deeply upset with myself for not doing the proper research on this supplement.
I want to apologize to my family, the Bears organization, my teammates, and Bears fans. I will work hard to earn back the respect and trust of the Bears nation and look forward to being back on the field."
Jeffery broke out in 2013, catching 89 passes for 1,421 yards and seven scores on his way to a Pro Bowl selection. He was also extremely productive in 2014 (less yards, more touchdowns), but his 2015 season was cut short by injury. Now, as Jeffery tries to make his case to be one of the league's highest-paid receivers, he has likely incurred another major red flag.
Jeffery will miss out on $3.4MM+ in salary during the suspension. This spring, his apparent misstep could cost him much more. After today's revelation, Jeffery might not get a chance to approach the deals of Julio Jones, Demaryius Thomas, and Dez Bryant.
Photo courtesy of USA Today Sports Images.
Follow @PFRumors