Ray Horton's first season in Cleveland hasn't gone as planned. The Browns' defensive coordinator has struggled mightily through the team's first 11 games. Not only are the Browns winless, but the defense ranks towards the bottom of the league in nearly every statistical category.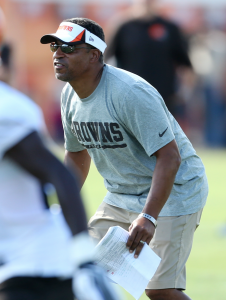 To make matters worse, a report earlier this month from CBS Sports' Jason La Canfora indicated that Horton could be on the hot seat. La Canfora reported that Horton "is facing a very uncertain future."
"Horton is a very unpopular pick in various quadrants of the organization to return as defensive coordinator but is supported staunchly by [head coach Hue] Jackson," the reporter wrote.
Horton addressed these reports yesterday. Unsurprisingly, the long-time coach told Mary Kay Cabot of Cleveland.com that he's not worried about his job security.
"I don't live that way, I don't want my kids to live that way and I don't want my players to live that way," said Horton. "I would think, 'man, what an awful life if you have to worry all the time about stuff.' You do the best job you can in life with what you have, meaning personally. Do I worry that way? I think you guys know me very well. I try to be very honest and very fair. I don't live that way."
Horton cited the mediocre records of Tom Landry, Bill Walsh and Jimmy Johnson when they were first getting started in the NFL, noting that it takes some time to build a competent team or unit.
"I'm not comparing myself to them, please do not think I am – but you go through things in this business," he said. "Locally, you look at the Cleveland Cavaliers. They had LeBron, LeBron left and LeBron came back. There are a lot of pieces to the puzzle, and to answer your question very bluntly, I don't live that way. I never have, and hopefully, I never will."
Is the coach at least seeing some improvement from his defense?
"It's hard to see maybe from the score and the record, but we are getting better," said Horton. "Our guys are getting better, and we're going to put this together. I'm encouraged every day because our guys are getting better. They're understanding more. They're seeing more. They're getting live action out there.
"When you talk to coaches on other teams, they see it. A lot of times, it is hard to see the forest through the trees, but we have some guys that are playing very well that are going to be the foundation of our team. They're going to be the ones that help us get over the top."
Following two seasons with the Titans, Horton returned to the Browns this offseason. The 56-year-old was Cleveland's defensive coordinator in 2013.
Photo courtesy of USA Today Sports Images.
Follow @PFRumors