Eagles wide receiver Nelson Agholor was not charged in connection with a rape accusation that was made against him this summer, but he is not out of the woods in terms of potential league discipline. The NFL's investigation is still ongoing, according to Mark Eckel of NJ.com.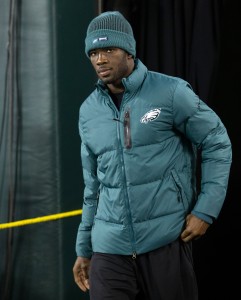 [RELATED: Eagles, Others Showing Interest In Rugby Stars]
A source close to the situation says the recently league sent its Director of Investigations, Kia Roberts, to the gentleman's club where the alleged incident transpired. Roberts went fact finding there last week, at the same time Eagles head coach Doug Pederson decided to bench Agholor against the Packers. When asked about the reason for benching Agholor today, Pederson offered little in the way answers. He did imply that the decision was football-based, however (link):
"I just think he … the biggest thing is just, seeing the way the offense kind of works. Seeing how the game kind of unfolds. How guys react in certain situations. And I wanted him to put himself in the game situations and see how he would react, see how he would play, see how he would run that route. And its a lot easier to do that from a removed position where you can kind of see it from a big picture with calmer eyes where the pressure and stress isn't on you to perform. That is what I am hoping he takes away from this, and learns from this down the road."
Agholor recently admitted he's fighting a "mental battle" on the field and he has been seeing a sports psychologist as of late. The potential for a significant suspension could also be weighing on Agholor, who hasn't really looked the part of a former first-round pick.
Photo courtesy of USA Today Sports Images.
Follow @PFRumors