Recently, a report indicated that Josh McDaniels was planning to hang around in New England so that he could succeed Bill Belichick. Today, McDaniels refuted that notion on a conference call with reporters.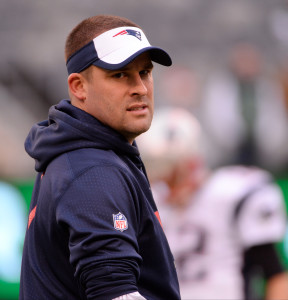 "I'm aware of the report and I'll try to clear that up," McDaniels said (transcript via Patriots' website). "I definitely said it before and I'll say it again: I definitely would love to be a head coach again. There are only 32 of those in the world. They're opportunities that don't come along very often, and if you would ever be so fortunate and blessed to have another opportunity to do it, and for myself it would be for a second time, it would be an opportunity that I would look forward to. It would have to be at the right place at the right time, which is what I've always said. I try to make decisions [based on] what's best for my family and myself. Again, somebody would have to offer that opportunity. You're lucky if you get that. That's my mindset."
The NFL Career Development Advisory Panel released its preliminary list of 2017 coaching candidates and McDaniels was not included. Now, McDaniels is likely to be viewed as one of the top HC candidates in the league. McDaniels' stint as a head coach in Denver did not work out, but he was just 33 when he was hired. Still young, but far more experienced at 40, McDaniels has once again established himself as one of the league's best offensive minds.
It's hard to see Belichick as anything other than a coach and McDaniels probably agrees. He will pursue head coaching gigs this spring and the right opportunity could take him away from New England.
Photo courtesy of USA Today Sports Images.
Follow @PFRumors