San Diego's seminal vote on Measure C (the Chargers' downtown stadium referendum) takes place Tuesday, and it's almost certainly going to fail. But the level at which it does could determine whether or not the Bolts stay in San Diego, Brent Schrotenboer of USA Today writes.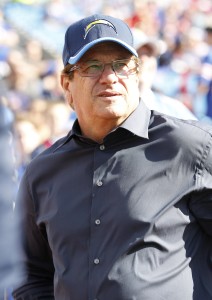 Polls have the measure falling well short of the two-thirds super-majority threshold, but the Chargers could be more enticed to work something out with the city if they receive a 50 percent vote of approval. The team has until Jan. 15 to decide whether or not to accept the Rams' offer of sharing their stadium in Los Angeles, but the Bolts having essentially no fanbase there complicates that.
"There's been a lot of talk and speculation about what is a Plan B and what happens under a variety of scenarios," said Fred Maas, who has served as the point man for the Chargers' prospective downtown venture, via Schrotenboer. "The truth is, who knows? It's certainly one off ramp if it's less than 50%. It may be another off ramp if it's 51%. It may be another off ramp if it's 60 or 65%. Who knows? What Dean [Spanos] has said is `Look, it's going to tell me a lot about how we've come along as a community and where things are.'"
San Diego councilman Chris Cate, whom the Chargers went after earlier this year following his stance against their publicly funded $1.15 billion stadium, said the city council would not close the door on working with the team if the measure fails.
"I think [the council] would be open to some type of support [for an alternative stadium plan]," Cate said, via Schrotenboer. "It has to be some type of creative deal. And it may not be the most extravagant thing in the world, but at least something that would work for all parties and allow for something that is not just in the best interest of the team but the taxpayers."
If the Chargers opt against moving to L.A. by January, that brings a gray area into an equation that now looks like it could be heading there. Otherwise, the franchise's options are clear: see the measure pass or join the Rams in Inglewood. A California Supreme Court ruling earlier this year dealt a crushing blow to Measure C's prospects of passing by raising the needed vote percentage from 50 to 66.6. It's currently polling at around 45 percent.
The state's Supreme Court could revisit the ruling requiring super majorities for measures like this within two years, per Schrotenboer, which could prompt the stadium measure to be revisited. But that would likely mean the Chargers continuing to play in their undesired current stadium, should they balk on L.A. San Diego's effort to coax the state Supreme Court to expedite this ruling to provide clarity for this election was denied in August, but another stadium measure (Measure D) is on the ballot this year. However, that just authorizes a stadium for the Chargers with no money being allocated to the project.
So, the Bolts' situation remains fluid and will continue to be until Spanos decides on Los Angeles.
The league's own popularity issues could also play a part here, Sam Farmer of the Los Angeles Times writes. Should Measure C receive less than 50 percent support from voters, the league faces the possibility of two coveted markets losing their teams. Farmer contends the NFL's image would absorb a bigger hit if two longtime cities endured the fate of St. Louis. Suddenly, support for a Raiders Las Vegas stadium could take a hit among owners if San Diego — the nation's No. 28 media market compared to Vegas at No. 42 — becomes an available destination.
After all the effort the Chargers and Raiders put toward finding their own solutions following their Carson stadium pursuit's shortcoming, it could still conceivably come down to which of these teams will join the Rams in L.A. The Raiders would be on the clock next year if the Chargers pass, and if the owners become leery of Vegas due to San Diego losing its team, the Los Angeles option could appeal to Mark Davis, who has shown no desire to continue talks with Oakland.
Photo courtesy of USA Today Sports Images.
Follow @PFRumors