After the city of Oakland's lawsuit against the Raiders and NFL, the chances of the team finishing its lame-duck stay in Oakland decreased significantly. But there remains a chance the Raiders stay in their home market for one more year.
The Raiders will meet with the Coliseum Authority one more time to discuss the team playing at its longtime home stadium in 2019.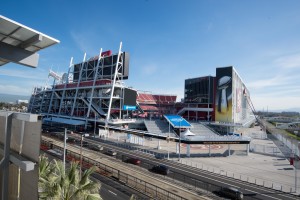 "Yes, there still is a possibility that an agreement can be reached. Not sure what the odds are, but still possible," Coliseum Authority executive director Scott McKibben said, via the Bay Area News Group's Jon Becker. "Once the Raiders have completed all their research on other places we will sit down and talk one last time."
While the Raiders have been searching for other sites, having been most connected to the San Francisco Giants' AT&T Park, the prospect of remaining in Oakland was not completely scrubbed, either. Mark Davis has not been a proponent of sharing Levi's Stadium with the 49ers. Though, Jason La Canfora of CBS Sports reports the Raiders' most likely 2019 home is AT&T Park or Levi's Stadium.
A tentative lease for one more Coliseum season existed, per Becker, but the lawsuit nixed that. Said lease was going to more than double the Raiders' rent for 2019. The Raiders paid $3.5MM in rent this season, Becker reports. Under the tentative agreement, that would have spiked to $7.5MM, with an option to play the 2020 season in Oakland in the event the Las Vegas site was not ready for play yet. The NFL wants the Raiders to make this decision by Super Bowl LIII or shortly after.
The Raiders have not yet discussed a deal with San Diego, but they continue to monitor Qualcomm Stadium as an option, per La Canfora. However, the league office is not sold on that option. Reno, Nev., remains a possibility as well, JLC adds. The London option is now seen as untenable, he notes, adding that Reno would also cause more issues than a season in Santa Clara, Calif., would.
The 49ers still have territorial rights to San Francisco, which could pose a problem for a Raiders season at AT&T Park — located within the San Francisco city limits. But the Raiders are not 100 percent set to move on from their home stadium yet. They remain slated to relocate to Las Vegas for the 2020 season.