The Chargers' viability in the Los Angeles market was an informal topic of discussion at recent league meetings, according to Seth Wickersham of ESPN.com. However, the Chargers are essentially locked into the city of Los Angeles, as the club agreed to a 20-year lease to share the Rams' new stadium in Inglewood beginning in 2020, per Mike Florio of Pro Football Talk.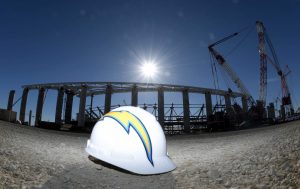 No owner officially broached the Chargers' plans in Los Angeles at the NFL's meetings, but there was reportedly concern after the team revised its revenue projections from $400MM down to $150MM. That alteration is likely due to lower ticket prices, as the Chargers recently announced plans for cheaper seats that come with personal seat licenses.
But sources tell Florio the Chargers don't have the option to leave Los Angeles, barring an unforeseen breach of contract with Rams owner — and Los Angeles Stadium at Hollywood Park builder — Stan Kroenke. Not only did the Chargers sign up for a 20-year lease, but the club also has two 10-year options tacked onto the end of the deal.
Moreover, the Chargers have no incentive to back out of the stadium deal, as Florio explains. The Chargers won't pay any construction costs for their new stadium, and won't be responsible for any cost overruns. Instead, they'll essentially be acting as a tenant of the Rams, not a co-owner.