The Rams and Chargers have agreed in principle to a deal that would see the two franchises sharing an NFL stadium in Inglewood, reports Kevin Acee of the San Diego Union-Tribune. While such an agreement allows the Chargers to move to Los Angeles as early as 2016, the club has yet to officially make that decision.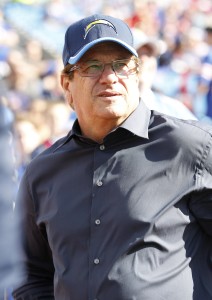 As Acee explains, the Chargers will have until January 15, 2017 to announce whether or not the team will exercise its option to move to Los Angeles. If the club confirms in the coming weeks that it will make the move, relocation could occur immediately, for the 2016 season — the Chargers have already reportedly bought land in Santa Ana to potentially use for a team headquarters, and the L.A. Coliseum is expected to allow a second NFL team to join the Rams there on a temporary basis.
However, the Chargers could also use the agreement as leverage to attempt to work something out with the city of San Diego. If the team decides to try to make things work in its current home, it could spend the 2016 season at Qualcomm while negotiating with the city, in the hopes of coming up with a viable stadium plan before next January.
According to Acee, the Chargers' deadline to make its Los Angeles decision could even be extended to 2018 if the team gets a stadium initiative on the ballot in San Diego this year. The extra year would allow for legal challenges or a second election. If the Chargers ultimately reach an agreement with the city of San Diego to remain there, the Raiders would get the opportunity to join the Rams in Inglewood.
With an agreement between the Rams and Chargers in place, the next step is for Chargers owner Dean Spanos to make a decision on the team's short-term – and potentially long-term – home. If the team intends to move to Los Angeles for the 2016 season, it will have to make that decision by March 23, though an announcement one way or the other is expected to come well before then.
Photo courtesy of USA Today Sports Images.
Follow @PFRumors