Roger Goodell still prefers the Bay Area as the Raiders' long-term locale to Las Vegas, and the commissioner may wield enough power to swing the Raiders' upcoming relocation vote, Jason La Canfora of CBSSports.com reports.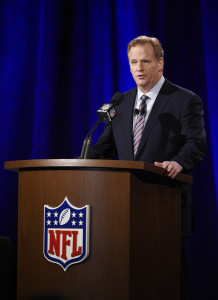 Ownership sources told La Canfora the commissioner's ability to rally support behind causes he feels strongly about shouldn't be underestimated regarding the seminal vote set likely for early 2017. A matter as significant of a team relocating from a top-five market to the No. 40 market could meet Goodell's standard for exerting influence.
"Even if this came to a vote early next year," one source told La Canfora, "I wouldn't at all discount Roger's ability to garner 9-12 votes against [a move] if he believes firmly that Oakland is in the best interest of the league."
The Raiders need 23 additional votes to green-light their long-rumored Vegas move. This news comes after a report earlier this week appeared to see owners softening their stances on a team trying to set up shop in the nation's gambling mecca. Although most owners' beliefs on this would-be seminal venture aren't yet known, Goodell feeling the need to play a key role here could be a sign support is growing.
Mark Davis is also seeking to have this vote as early as possible, but the league looks set to delay it. Davis secured the $750MM in public money quicker than owners expected, and the NFL is trying to catch up in this process. Davis still wants the Raiders to play at the Oakland Coliseum in 2017-18 before hopefully relocating to Vegas in '19.
The owner is no longer interested in discussing a future in Oakland or Los Angeles, La Canfora writes, but Goodell maintains the league needs to look into what can be salvaged in Oakland as well as research what a Las Vegas move would entail for the league.
"I would expect the league to delay any vote for as long as possible," one ownership source said. "Mark is adamant that they are gone, but the league isn't in any rush to bring this to a head."
The vote that sent the Rams to L.A. and kept the Chargers and Raiders in their longtime markets occurred in January, and Davis wants this expected vote to take place in January 2017, when he's expected to file for relocation. But that doesn't look to be on course right now.
Goodell and the NFL have been linked to having discussions with Oakland civic leaders, talks in which Davis is not currently participating. The league is exploring "several stadium options" in the Bay Area, per La Canfora, who continues the theme of pointing out how the NFL is more attracted to the Bay Area's business infrastructure advantages compared to Las Vegas'.
Photo courtesy of USA Today Sports Images.
Follow @PFRumors