As a Raiders relocation vote for a second straight year becomes closer to a reality, the stances of many owners around the game aren't known, creating an air of mystery around this likely forthcoming decision. But some owners have voiced praise for Mark Davis' efforts in securing a deal with Las Vegas, potentially opening the door to a better outcome for the owner's efforts to leave Oakland.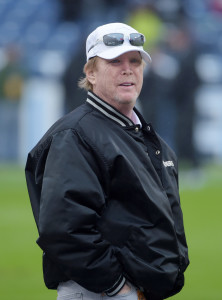 "I completely respect how he's handled the process over the last year," Chiefs CEO Clark Hunt said, via Albert Breer of TheMMQB.com, from the owners' meetings in Houston. "I know he had to be incredibly disappointed in not being one of the teams selected, at least initially, to go to L.A. And I just think the way he's handled it speaks to his maturity. I think people respect that he's created another option for himself in Las Vegas."
Davis' increasing trust among his peers has led to this process moving forward instead of better-regarded owners having stonewalled the effort, Breer writes. This represents a contrast from how the son of Al Davis was viewed previously in this group. Most owners did not expect Mark Davis to be able to secure the financing when this venture began earlier this year.
Other owners with whom Breer spoke this week were open to the idea of Davis being the owner who breaks through to the Las Vegas market after there was widespread hesitation among them earlier this year regarding the Raiders owner being the one responsible for reintegrating the Los Angeles market. One of them praised Davis' ability to be able to score the largest-ever public money contribution for an NFL stadium as evidence he could handle the move and his own market.
"He's gained a lot of respect in the room," an NFC team president told Breer, "Who else has come up with $750MM in public funding?"
Hunt, interestingly, was not behind a Raiders/Chargers Carson, Calif., joint move earlier this year, instead preferring only one team go to Los Angeles if a relocation was inevitable. Fellow AFC West owner Dean Spanos' opinion on Davis moving may be more predictable since the two nearly struck a deal to share a stadium in Carson.
"He's earned a great deal of respect amongst the owners," Spanos said, via Breer. "He's a committed owner. He loves the business. He's in this for the long haul. And I think he's gonna be successful in Las Vegas if he gets there, which I think he will. It remains to be seen obviously, but that's my opinion — he'll get there."
Breer still notes a small group of owners are with Jerry Jones and his pro-Vegas stance and a small group have voiced opposition to the Raiders moving from a well-regarded market to a questionable one. But there's enough unknown viewpoints to could swing the final tally.
The MMQB scribe adds Oakland — which has lost Davis' interest even as the NFL and city civic leaders remain in talks — is expected to make another push with the help of the NFL, which is still believed to prefer the Bay Area to Vegas. The league plans to conduct a market study of its own to follow up on one Davis conducted recently regarding Vegas' viability as a long-term NFL city.
Additionally, owners see a Raiders-to-Vegas move as a way to protect the Rams' brand in Los Angeles since the Raiders have a substantial footprint in L.A. compared to the Chargers, who remain in front of the Raiders in line to move there should their downtown San Diego stadium venture fail. The Bolts having only played in L.A. in 1960 leaves them well behind the Silver and Black in terms of prospective fan support in the city. Davis hasn't mentioned Los Angeles as an option for the Raiders in months, having been successful in generating a route to Vegas, but that would still theoretically be an option if the Chargers balked and owners voted Davis' latest relocation proposal down.
Photo courtesy of USA Today Sports Images.
Follow @PFRumors