A cross-section of NFL personnel are displeased with the NFL and the Giants' handling of the Josh Brown situation, from owners to execs to coaches and players, according to an ESPN.com report.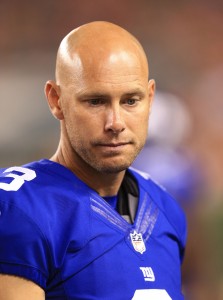 The NFL suspended the kicker for the Giants' opener, but Brown returned to kick for the team for the next five games before this week's revelations induced a trip for the veteran to the commissioner's exempt list. Brown, who likely won't kick in the NFL again if the careers of Ray Rice and Greg Hardy are any indication, admitted to domestic abuse in documents released this week by the King County (Wash.) Sheriff's Office.
One owner told ESPN.com he regards the situation as "an embarrassment," while another wondered how this could reach this point — with Brown being permitted to play again after a one-game suspension — after the events of 2014. A new domestic violence initiative was enacted under the umbrella of the personal conduct policy, calling for a six-game suspension for domestic violence cases. No player has been suspended for that amount of time, but multiple players have been essentially banished as a result of domestic violence connections, Jonathan Dwyer being another.
Two league officials claimed the interest in pursuing the Deflategate matter took precedence over this, per ESPN. 49ers wide receiver Torrey Smith took to Twitter to voice his frustration about Brown's status.
Brown can still collect his $1.15MM base salary and attend meetings at the Giants' facility, along with a host of other permitted non-football activities. Although, with the Giants signing Robbie Gould, Brown doesn't seem to have a purpose in Big Blue meetings any longer.
John Mara said in August the team was comfortable re-signing the 37-year-old Brown to a two-year, $4MM deal this offseason based on the information at the Giants' disposal at the time. But the owner saying earlier this week that Brown admitted to them he'd abused his ex-wife but adding the team didn't know the extent of the abuse did not sit well with many. The NFL could have also requested similar documents from the Browns' divorce hearing, which is public record, prior to King County's Sheriff's Office releasing them this week.
Ben McAdoo said from London the team wasn't going to turn its back on Brown despite signing Gould to kick in England, but multiple sources told ESPN they doubt Brown will kick in the NFL again.
Photo courtesy of USA Today Sports Images.
Follow @PFRumors