Cody Kessler has been one of the few bright spots in yet another disappointing season for the Browns. In three full games and part of a fourth, the USC product has completed over 65% of his passes for 865 yards, throwing for four touchdowns against just one interception. Cleveland did not win any of the games in which Kessler appeared, but in the three games that he started and finished, the Browns have at least been competitive. His 93.8 QB rating is 14th in the league.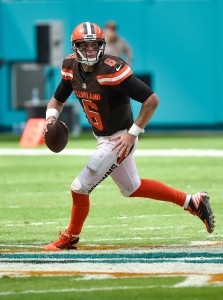 Kessler's surprising emergence has led many to wonder if the Browns, who were widely expected to draft a signal-caller with one of their two first-round selections in the 2017 draft, might be better-served by investing that capital in other positions (although such a decision would surely fuel more Carson Wentz-esque controversy). As one opposing coach told Mary Kay Cabot of the Cleveland Plain Dealer, "Kessler can be the long-term answer for the Browns if he continues to get better. [Head coach] Hue Jackson is doing a great job with him just like he did with Andy Dalton and others."
Indeed, Jackson's reputation as something of a quarterback whisperer is leading to the growing belief that Kessler, whom the Browns unexpectedly selected in the third-round of the 2016 draft, could be the team's long-awaited solution under center. Jackson's own comments have contributed to that perception. Cleveland's head coach said Kessler, "is one of the better rookie quarterbacks I've coached. I've had some real good rookies before, Joe Flacco, to name one, and I'm sure I have had some others, but he's done an outstanding job."
Jackson went on to say Kessler is so impressive "because I've seen him do things that we did not even ask other rookies to do on different kind of teams. He's playing well. He's growing every week. He's seen a lot in his young career in the National Football League. For that experience, he'll be better as he continues to move forward."
Kessler has also impressed his veteran teammates. Wideout Andrew Hawkins said, "What stands out about Cody is his ability to command the huddle. He has a great grasp of the offense. For such a young guy, that's kind of rare." All-Pro left tackle Joe Thomas, who has protected a parade of mediocrity during his time in Cleveland, added, "He's done a tremendous job. He's surprised a lot of people. As a leader, as a quarterback, those intangibles that you need to have, he has those intangibles to be a great quarterback in the NFL."
Jackson, though, is predictably keeping quiet when it comes to how Kessler's performance–even if he continues playing well through the end of the season–will impact next year's draft plans. "I don't know that anybody will affect the draft plans," Jackson said. "I don't think we'll talk about those until the season is over. We're going to always do everything we can to better our football team as we move forward."
That makes sense, of course, but the fact that Jackson is even being asked those types of questions is encouraging news for Browns fans, who need as much encouragement as they can get.
Photo courtesy of USA Today Sports Images.
Follow @PFRumors