Eagles wide receiver Nelson Agholor was not charged in connection with a rape accusation that was made against him earlier this summer, but the league is continuing to review Agholor under the league's personal conduct policy, per ESPN's Adam Caplan (article via Tim McManus of ESPN.com).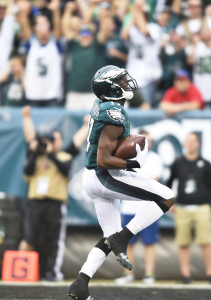 A dancer at Cheerleaders Gentlemen's Club in Philadelphia accused Agholor of rape back in June, an accusation that launched a police investigation. That investigation, however, yielded insufficient evidence to charge Agholor with any wrongdoing, which led to the following statement from Philadelphia District Attorney R. Seth Williams:
"The District Attorney's Family Violence and Sexual Assault Unit and detectives from the Philadelphia Police Department's Special Victims Unit thoroughly investigated the allegations of sexual assault against Nelson Agholor. As a result of this joint investigation, our staff and the Police reached the conclusion that we lacked sufficient evidence to bring charges against Mr. Agholor, therefore no charges will be filed."
Agholor, selected in the first round of the 2015 draft, has not demonstrated a great deal of on-field improvement in 2016 after a disappointing rookie campaign. The USC product has caught 16 passes for 181 yards and a score, and he has shown little to suggest that he could develop into the top-flight receiver that the Eagles expected. A suspension would certainly not help matters.
McManus adds that the NFL is also reviewing a pair of incidents involving Eagles linebacker Nigel Bradham. In July, Bradham was reportedly part of a six-person group that began arguing with a Hilton Bentley hotel employee over the amount of time it took to receive an umbrella they had apparently purchased. The scene grew violent, and the worker was struck over the head with a glass bottle, and, according to the police report, Bradham "without provocation, struck the victim in the nose with a closed fist, causing the victim to fall to the ground." Bradham was charged with aggravated battery, a second-degree felony, as a result of that incident.
Bradham was then arrested earlier this month for bringing a loaded gun to Miami International Airport. Officials at the time said it was clear that there was no criminal intent, but they had to arrest Bradham given his pending assault case.
Bradham signed a two-year, $7MM deal with the Eagles this offseason, and he has started each of the club's five games in 2016, compiling 16 tackles and an interception.
Photo courtesy of USA Today Sports Images.
Follow @PFRumors