Philadelphia District Attorney R. Seth Williams formally announced today that Eagles wide receiver Nelson Agholor will not face charges in connection with a June rape claim. Les Bowen of the Philadelphia Inquirer first reported that the USC product would not be charged.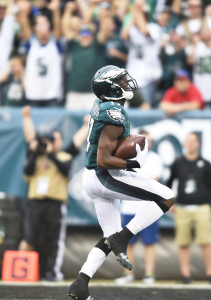 [RELATED: Doug Pederson: Carson Wentz Would Be Inactive If Season Started Today]
"The District Attorney's Family Violence and Sexual Assault Unit and detectives from the Philadelphia Police Department's Special Victims Unit thoroughly investigated the allegations of sexual assault against Nelson Agholor. As a result of this joint investigation, our staff and the Police reached the conclusion that we lacked sufficient evidence to bring charges against Mr. Agholor, therefore no charges will be filed," the D.A. said in a statement.
Even though Agholor will not be charged, there's still a chance Agholor could face discipline from the league. By the same token, his odds of receiving a fine or a suspension have probably gone down with today's news.
Last month, Agholor reportedly agreed to pay an exotic dancer $1,400 for their time together in a private room. When she left before the allotted time they agreed upon, Agholor only paid her $800. The dancer was said to have left the bar without informing management of the alleged rape while multiple dancers at the club told management that Agholor didn't do anything wrong.
Agholor, the No. 20 overall pick in the 2015 draft, caught 23 passes for 283 yards and a touchdown in 13 games as a rookie.
Photo courtesy of USA Today Sports Images.
Follow @PFRumors