Last week, after the Second Circuit denied his request for a rehearing, Tom Brady announced that he would not pursue his case any further and would accept his four-game suspension from the NFL. Soon after, the NFLPA released a statement explaining that they could still petition the Supreme Court to hear the case, even though Brady had elected against taking that step himself. As it turns out, that's only half right.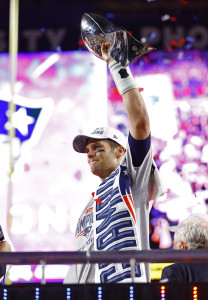 [RELATED: Impact Rookies – New England Patriots]
In actuality, Brady has authorized the NFLPA to proceed with the appeal on his behalf, sources tell Mike Florio, who penned a guest column for The MMQB today. Without Brady's OK, the NFLPA would not have the option of continuing the legal battle.
If the NFLPA does take Brady's case to the SCOTUS, they probably won't be able to keep Brady from missing the first four games of the 2016 season. However, a successful appeal could restore Brady's lost pay (~$253K) and reduce the Commissioner's power in future disciplinary cases. None of this is possible without a greenlight from Brady, however.
The four-game suspension means that Brady won't be eligible to return to regular season action until Sunday, October 9th against the Browns. The Patriots will be without their No. 1 QB for games against the Cardinals, Dolphins, Texans, and Bills, leaving understudy Jimmy Garoppolo in the starting role for the first month.
Photo courtesy of USA Today Sports Images.
Follow @PFRumors