The old adage that defense wins championships may or may not be true, but you'll be hard-pressed to find a title-winning team that didn't build heavily through the draft. Rookie classes, naturally, are evaluated on the perceived upside of the NFL newcomers, but which rookies are ready to contribute right out of the gate? And, how do they fit in with their new team schematically?
To help us forecast the immediate future of these NFL neophytes, we enlisted the help of draft guru Dave-Te Thomas who has served as a scouting personnel consultant to NFL teams for multiple decades.
Today, we continue PFR's Impact Rookie series with his insight on the New England Patriots' draft class:
In a tradition started by Jimmy Johnson during his days with Dallas, lots of NFL teams use what is called a draft "value board" in their war rooms. Based on the selections made by the coaching genius of Bill Belichick, analysts might be scratching their heads over the Patriots' decisions during this past draft.
Deflategate left the team with no choice in the opening round, but in what has been Belichick's pattern over the years, he put on his "Trader Jack" hat before and during the draft proceedings in attempts to improve his roster. In mid-March, the team made a surprising move, trading away one of the defense's cornerstones in Chandler Jones for oft-injured offensive guard Jonathan Cooper and a second-round draft pick.
The Patriots flipped that No. 61 overall pick to the Saints, netting the Saints' third (No. 78) and fourth-round (No. 112) selections. Even with Cooper in the fold and starters Shaquille Mason (left side) and Tre' Jackson (right) stationed as the starters, New England added to their guard cache in the third round by taking North Carolina State's Joe Thuney. Thuney is likely to caddy for Shaquille Mason on the left side and while he could prove to be a reliable backup, he's not likely to make waves in 2016. However, we do see these two Pats rookies leaving a mark in their first NFL season:
Continue reading about the Patriots' rookie class..
Second Round – Cyrus Jones, DB (Alabama, No. 60 overall)
The Patriots ranked ninth in the NFL in total defense last year, as their front seven put on a performance that helped New England hold opponents to 98.8 yards per game rushing, the eighth lowest figure in the league. The pass defense? Not so great, as New England was 16th overall, yielding 240.7 aerial yards per contest. They ranked just 20th in interceptions (12) and the 24 touchdowns allowed by their secondary tied for 19th in the league. They allowed 60.6% of the passes thrown to be completed, ranking 23rd in the NFL. Heading into the draft, the Patriots were determined to improve their secondary.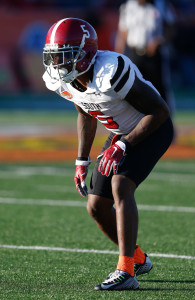 It seems like the secondary pieces are constantly changing in New England, the team's own version of musical chairs. Jones is a valuable addition to the cornerback unit. Currently, the Pats feature small college wonder Malcolm Butler (left side) and Logan Ryan (right) as the starters, but little, if any depth behind them. Enter the Tide performer, who is still really a neophyte at the defensive position.
Two years removed from a switch from receiver to cornerback, Jones flourished as an All-SEC performer in 2014, but his 2015 campaign saw him establish himself as one of the nation's most dangerous punt returners while continuing his consistent play as one of college football's top cornerbacks.
Jones flourished as he had had two interceptions and eight pass breakups on the season to go with 37 tackles, including four tackles for a loss (-16 yards) in 2015. He returned 42 punts for a total of 530 yards for an average of 12.6 yards per return. Four of those punt returns were taken to the house for touchdowns, including a 57-yard return against Michigan State, a 69-yard touchdown at Mississippi State, and 43- and 72-yard returns against Charleston Southern. His 530 return yards rank second all-time in Alabama single-season history. Additionally, he anchored a secondary that ranked eighth nationally and second in the SEC in pass efficiency defense.
Defensively, it appears that Jones has a lot to offer the Pats. Butler is a rising star, but there are rumblings that he is not too pleased with his current contract. He delivered 67 tackles, picked off two passes and broke up 17 other throws last year, while Ryan made four thefts, knocking down 18 other balls, and posting 74 stops. Five other cornerbacks on the depth chart combined for 42 tackles and five pass deflections. All told, Jones should have no problem in at least holding down the key cornerback reserve spot when he takes on Justin Coleman, Darryl Roberts, Jonathan Jones, E.J. Biggers, and Cre'von LeBlanc.
Danny Amendola is also pleased to see Jones come on board. The oft-injured receiver should be relieved of punt return duties now that the former Tide returner is in the fold. New England ranked eighth in the nation with a 10.1-yard punt return average last year, with Amendola producing at a 12.0-yard level, but reaching the end zone, at least at the frantic pace Jones delivered last year, is something that Patriots fans have been accustomed to over the years.
Could Jones spark memories of greats from the past like Dave Meggett (142 returns for 1,438 yards; 1995-97) and Troy Brown (252 for 2,625 yards and three scores; 1993-2007). Or, could he challenge team record holder Julian Edelman (four touchdowns on 142 runbacks for 1,697 yards)? Any resemblance to either of this trio will be more than enough to please Belichick.
Seventh Round – Devin Lucien, WR (Arizona State, No. 225 overall)
Late in the draft, the Pats took Lucien, a former UCLA product who led the Sun Devils with 66 receptions for 1,078 yards and eight touchdowns last year and concluded his college career by hauling in 163 balls for 2,260 yards (13.9 ypc) and sixteen touchdowns during his two tours of duty.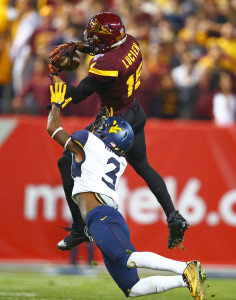 Belichick likes his receivers big and the ASU product offers range at 6'2″. It also helps Lucien's case that Amendola is dealing with an array of injuries and rumor has it that Nate Washington has failed to impress coaches so far this offseason. Not only can Lucien make the roster – he can move his way up the WR depth chart faster than initially expected.
If Amendola is healthy, the Patriots's receiving unit will be built around him and Julian Edelman, leaving Lucien in a heated battle with Washington, Chris Hogan, Keshawn Martin, Matthew Slater (a lock to stay due to his special team role), Chris Harper, DeAndre Carter, and Aaron Dobson for the remaining four spots. Toss in 2016 fourth round choice, Malcolm Mitchell, and you can see that Lucien has his work cut out for him. Yet, when his name is mentioned during rookie camp, it brings smiles to the coaches' faces.
The Pats also signed Lucien's ASU teammate, D.J. Foster, who is getting a look in training camp as a slot receiver/flanker/tailback. Even though he excelled in his receiving role at ASU last year (59 receptions; 280 yards rushing), his best chance of making the team might come as a ball carrier, where he could take the final tailback spot if Dion Lewis has to begin the season on the PUP list.
Dave-Te Thomas owns and operates The NFL Draft Report, a service providing insight to league scouting departments for over 40 years. All year round, you can read Thomas' in-depth reviews of both blue chip prospects and diamonds in the rough by visiting the NFL Draft Report blog.
Photos courtesy of USA Today Sports Images.
Follow @PFRumors