The Raiders' complex year shows no signs of stabilizing anytime soon. Possibilities of their short- and long-term plans remain wide-ranging, with several scenarios in play.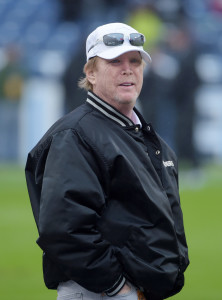 Mark Davis is expected to be in Las Vegas on Monday as Nevada Gov. Brian Sandoval signs a bill green-lighting $750MM in public money for a $1.9 billion domed stadium for the Raiders in Sin City. However, Davis said he still plans to have the Raiders play at the Oakland Coliseum in 2017 and '18.
"We want to bring a Super Bowl championship back to the Bay Area," Davis said, via Paul Gutierrez of ESPN.com.
The team has one-year options at its current home stadium and, per Gutierrez, is expected to exercise them for the ensuing two seasons regardless of the NFL voting to approve a Vegas move. That arrangement would seemingly be quite awkward, should the Raiders receive Vegas approval and still play in Oakland. We heard previously the Raiders could consider UNLV's Sam Boyd Stadium as a possible stopgap venue. But Davis would apparently still plan on keeping the Raiders in the Bay Area as construction of the Las Vegas stadium commences, a potentially toxic environment notwithstanding.
However, even after Nevada's expected clearance of financial hurdles, Davis' battle with the NFL and his fellow owners isn't close to its conclusion. NFL ownership sources continue to maintain Davis might not have enough support to reach the 24-vote plateau required for a relocation, Jason La Canfora of CBSSports.com reports.
Noting how much the NFL played a role in the Rams being the lone team permitted to relocate to Los Angeles, sources informed La Canfora the larger Bay Area market remains the preference of many owners over Las Vegas. Additionally, La Canfora hears a belief exists among a contingent of NFL ownership the Raiders would be better off without Davis, who would be forced to mount a legal battle if he cannot generate 24 votes.
The NFL and Oakland civic leaders remain engaged in talks, and per La Canfora, Davis has shown "little to no interest" in participating. However, the discussions between the league and Oakland are ongoing without him. An ownership source also suggested to the CBS scribe the league could form a trust with Oakland as it did with Cleveland in the 1990s after the original Browns moved to Baltimore, because while Oakland's stadium talks have produced next to nothing publicly, the league still believes it's a superior to southern Nevada as an NFL city.
"I'm not saying something like that will come together," an NFL source told La Canfora of an NFL-Oakland agreement. "But that's the preference. It's hard to ignore $750MM of public money, but they are looking long term."
Photo courtesy of USA Today Sports Images.
Follow @PFRumors