Once Gov. Brian Sandoval joins Mark Davis on Monday to sign the stadium bill on Monday, Nevada will have done its part financially to bring the Raiders to Las Vegas. The next steps could well be on the NFL and its owners as the possibility of the Raiders leaving Oakland again increases with Nevada green-lighting the $750MM in public money to be used for this project.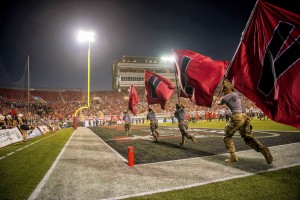 However, the proposed $1.9 billion domed stadium would not be ready until 2020, according to ESPN.com's Arash Markazi (on Twitter). The Raiders, if they receive the 23 additional votes from the owners to relocate in January — assuming this process reaches this stage — would then play the next three seasons at a temporary venue.
Markasi sheds some light on where that could be by pointing out Davis' previous intention to have his team play at the compact StubHub Center in Carson, Calif., in the short term if the Raiders moved to Los Angeles. Primarily used for L.A. Galaxy games and second-tier boxing cards, the StubHub Center seats 27,000. Davis' L.A. stopgap stadium plan leads Markazi to believe UNLV's Sam Boyd Stadium, which seats 40,000, would be an acceptable short-term site (Twitter link).
Las Vegas' lack of history with the NFL obviously wouldn't provide the Raiders with the same kind of glamorous backup site the Rams currently have, but Davis' willingness to use an MLS stadium should make the Runnin' Rebels' home field reasonable. Sam Boyd Stadium opened in 1971.
While the Raiders and Rebels would move into the domed stadium to start the 2020s, the NFL team would have to adjust to a much warmer climate if it moved. The average Vegas high in September is 94 degrees, however, those per-month numbers drop as an NFL season schedule wanes, with October, November and December highs averaging 81, 66 and 57 degrees, respectively, according to USClimateData.com. The 102-degree average highs in August could lead the Raiders to camp elsewhere, however.
Earlier today, we heard the NFL will research Davis' stadium proposal thoroughly and that some owners are wondering if the league will force Davis from his Raiders perch to stop this move. So, plenty of moving parts remain in what has been one of 2016's top NFL stories.
Photo courtesy of USA Today Sports Images.
Follow @PFRumors