Although Raiders owner Mark Davis' plan to move the team to Las Vegas took a significant step Friday, there are conflicting reports about his status in the NFL. Jason Cole of Bleacher Report (video link) says some powerful owners are wondering if the league will force Davis out. Conversely, a source told Vincent Bonsignore of the Los Angeles Daily News that the prospect of the league booting Davis is "nonsense" (Twitter link).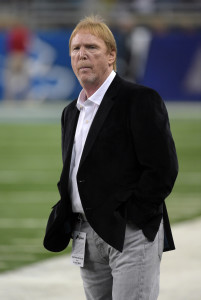 The Raiders have been under the control of the Davis family for most of their 56-year existence. Mark Davis' father, Al Davis, took the helm of the franchise in 1972 and didn't get let go until his death in 2011. That paved the way for Mark Davis to grab the reins, and with the Raiders and the city of Oakland not progressing toward a new stadium, a departure to Las Vegas looks likelier than ever for the organization.
In a key development, the Nevada Assembly signed off Friday on $750MM in contributions from the state toward a proposed $1.9 billion stadium for the Raiders. Dan Graziano of ESPN.com then reported that the league's owners wants to extend the current collective bargaining agreement as a way to help fund a stadium in Las Vegas. Davis has vowed to contribute $500MM, 40 percent of which ($200MM) would come from an NFL loan.
While Davis wants to head to Las Vegas, a return to Los Angeles remains an option for the Raiders, according to Bonsignore, though the Chargers have the option of joining the Rams there by Jan. 15. Davis' Nevada plan likely has the league's support, per Bonsignore, which would ultimately rule out LA for the Raiders. Unsurprisingly, the league "will take a very hard and thorough" look at Davis' relocation proposal before it gives him the green light (Twitter links). Davis will need approval from 23 of the league's other 31 owners to move his franchise.
Since their inception in 1960, the Raiders have played only in California – either Oakland or LA – but it appears that run is on the verge of ending.
Photo courtesy of USA Today Sports Images.
Follow @PFRumors