The 49ers turn to Kaepernick. San Francisco agreed to a restructured contract with quarterback Colin Kaepernick, wiping out the remaining four years of the deal and therefore ridding itself of Kaepernick's injury guarantees. With that fear out of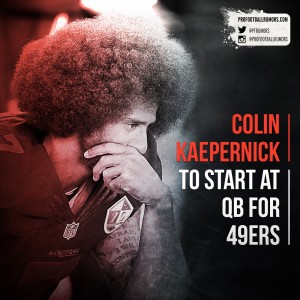 the way, the Niners opted to start Kaepernick over the embattled Blaine Gabbert, though the results on Sunday weren't much different. Kaepernick completed less than half his passes as the Niners lost big to the Bills. Kaepernick, meanwhile, is reportedly likely to opt out of his deal following the 2016 campaign.
The Ravens make a change. The last time Baltimore made a midseason offensive coordinator change, the club went on to win the Super Bowl. Will that chain of events repeat itself in 2016? It's too early to say, but the Ravens are obviously hoping that's the case after they fired play-caller Marc Trestman and replaced him with quarterbacks coach Marty Mornhinweg. Following Baltimore's Week 5 loss to the Redskins, quarterback Joe Flacco described the offense as "embarrassing" and said that the struggles so far this year have been "frustrating." The Ravens' struggles continued today, as the team lost 27-23 to the Giants.
Raiders inch closer to Vegas. The Nevada Assembly approved a funding bill for the Raiders' proposed stadium in Las Vegas, meaning that the club has taken a major step towards relocating to Sin City. The state of Nevada will now contribute $750MM to the project, which is estimated to cost about $1.9 billion. The NFL, meanwhile, is reportedly pushing for a CBA extension in order to secure funding for stadiums in Vegas and San Diego. UNLV's stadium could prove to be a stopgap option for the Raiders while a new arena is built.
Greg Hardy moving to MMA. With no options remaining in the NFL, free agent edge rusher Greg Hardy is transitioning to MMA. Hardy, once a top defensive player in the NFL, was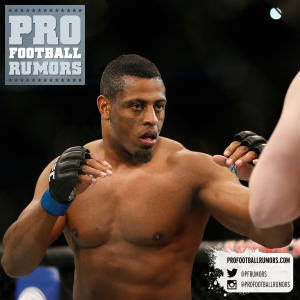 suspended for the bulk of the 2014 season and part of the 2015 season for a domestic violence incident. The Cowboys gave Hardy a second chance, but he was reportedly a thorn in the side of coaches. This offseason, teams were unwilling to take on all of the headaches that would come with signing Hardy and it now sounds like he is moving on from football altogether.
Eagles lose a key offensive lineman. The NFL upheld Philadelphia right tackle Lane Johnson's 10-game suspension for PEDs, dealing a massive blow to the Eagles' front five. Johnson's ban initially came down over the summer, but he had been fighting the decision. Now, the fight is over and Johnson will be out of action until Philly's Week 16 game against the Giants. Johnson tested positive for PEDs in August but he claimed that he unknowingly took a tainted amino acid. $25MM in guarantees has now been voided in Johnson's contract thanks to the ban.
Photo courtesy of USA Today Sports Images.
Follow @PFRumors