SUNDAY, 9:00am: ESPN's Adam Schefter and Ian Rapoport of NFL.com pass along several more key details of Kaepernick's restructured deal. Schefter reports that the playing-time incentive of $1MM will be met if Kaepernick plays in 50% of the 49ers' snaps over the rest of the season, whereas Rapoport indicates that the threshold is set under 50%. Neither scribe explicitly mentions the 34.4% figure that Pelissero reported yesterday.
Rapoport and Schefter do agree that the 49ers purchased an insurance policy in which Kaepernick is the beneficiary, and the policy dictates that if Kaepernick is hurt to the point where he cannot play next season, he would collect $7.5MM tax-free, which is close to what he would have collected in the second year of his original contract (which called for him to make $14.5MM before taxes). As Schefter writes, both sides are now covered in the event Kaepernick suffers an injury that impacts his 2017 availability. He still gets paid, and the 49ers don't have to count him against their salary cap.
SATURDAY, 3:09pm: Kaepernick's 2016 cap number vaulted from $15.89MM to $20.23MM, Tom Pelissero of USA Today tweets. This revised contract also carries a playing-time incentive of $1MM that can be met if the sixth-year quarterback plays in 34.4 percent of the 49ers' snaps this season, per Pelissero (Twitter link).
WEDNESDAY, 5:30pm: When the 49ers announced earlier today that Colin Kaepernick would be their starting quarterback this week, we knew it'd only be a matter of time before the two sides agreed on a new contract.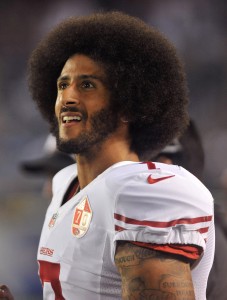 Well, ESPN.com's Adam Schefter and Adam Caplan report that the two sides have agreed to a restructured contract that will wipe out the final four years of Kaepernick's former deal. The quarterback will now be playing under a one-year contract with a player option for 2017, with the monetary value of the 2016 contract remaining the same. The 28-year-old can opt out of his contract following this season, allowing him to become an unrestricted free agent. The 49ers will not be allowed to place the franchise tag on the quarterback.
Kaepernick was set to make $14.5MM next season, and the team would have been stuck with a $19.5MM cap hit if they cut the quarterback. Furthering complicating things were the original contract's injury guarantees, which would have cemented Kaep's 2017 salary had he still been injured by April of 2017. Those injury guarantees are the same reason why Kaepernick stuck around for this season, and they're also a big reason why some think Blaine Gabbert was initially named the team's starting signal-caller. The two sides have been working on a new contract for months, as Schefter notes, and talks picked up over the past month or so.
Kaepernick originally signed his six-year extension prior to the 2014 season, with the deal being worth up to $126MM. After having led his team to a Super Bowl and NFC Championship appearance, the quarterback has struggled mightily since inking that contract. The former second-rounder hit rock bottom in 2015, completing only 59 percent of his passes for 1,615 yards, six touchdowns, and five interceptions. With Chip Kelly taking over the team this past offseason, some thought that the speedy Kaepernick would be a perfect fit for his new coach's style of play. Instead, Kelly opted for Gabbert, who has tossed five touchdowns and six interceptions in five games.
Matt Maiocco of CSNBayArea.com notes that the team fully guaranteed the quarterback's per-game bonuses ($2MM, or $125K per game) through the rest of the season. Meanwhile, Kaepernick's potential 2017 salary is still at $14.5MM, but ESPN.com's Adam Schefter tweets that the there's no guaranteed money. The new deal will include a revised "injury insurance policy" and playing-time bonuses, according to Matt Barrows of The Sacramento Bee.
Photo courtesy of USA Today Sports Images.
Follow @PFRumors