The Raiders remain on track to file for Las Vegas relocation in January, reports ESPN's Jim Trotter. And, "barring a miracle," the Chargers will likely declare their intention to move to Los Angeles at the same time (Twitter link). The Chargers have until Jan. 15 to decide whether to join the Rams in LA.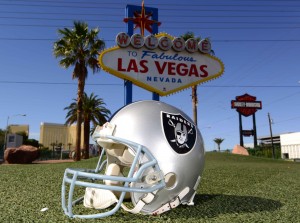 Both Raiders owner Mark Davis and the Chargers' Dean Spanos will need 23 of their colleagues to OK their respective moves when they file for relocation. But Davis is in for a "battle royal," according to Trotter, who adds that certain "old-guard owners" and NFL commissioner Roger Goodell are against the idea of putting a team in Las Vegas (Twitter links). Not only would doing so place a franchise in the gambling capital of the United States, but it would also mean trading the the Raiders' Bay Area market for a smaller one. The Raiders currently play in the league's sixth-biggest market, whereas Las Vegas is just the country's 40th-largest market, as Mark Purdy of the San Jose Mercury News wrote in October.
As for Goodell, his wariness of Las Vegas has been known for a while, with a source telling CBS' Sports Jason La Canfora in October, "Even if this came to a vote early next year, I wouldn't at all discount Roger's ability to garner 9-12 votes against [a move] if he believes firmly that Oakland is in the best interest of the league."
The main reason the Raiders are exploring relocation is because the city of Oakland hasn't made much progress toward building a new stadium to replace the 50-year-old Coliseum. That may have changed somewhat earlier this week, though, as Mayor Libby Schaaf outlined a financing plan for a potential facility. Schaaf is hoping a combination of $600MM in private money from former Raider Ronnie Lott and the Fortress Investment Group of New York, $300MM from Davis, $200MM in public money and $200MM from the league will entice the Raiders to stay, according to Phil Matler and Andy Ross of the San Francisco Chronicle. In addition to kicking in $300MM – the same amount he'd put forth for a Las Vegas stadium – Davis would likely have to take on Lott and his group as minority owners. The league's on board with that idea, per Matler and Ross, but it's unclear what Davis' feelings are. At the moment, the plan is for Schaaf & Co. to submit the outline to the league's owners to demonstrate that they're serious about keeping the Raiders in Oakland.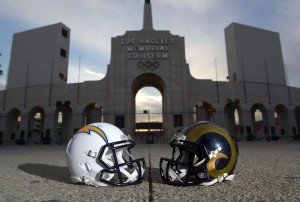 The Chargers have shown a desire to stay in San Diego, but they're "out of ideas" for securing a new stadium and will essentially need a miracle over the next month and a half to avoid relocation, per Trotter (Twitter links). The Chargers and Rams are reportedly progressing toward an LA agreement, so it seems increasingly likely that the Bolts are in their final season in San Diego. While their lease at 49-year-old Qualcomm Stadium runs through 2020, it's possible the Chargers will break it and spend the next two years either sharing the LA Coliseum with the Rams or playing at the StubHub Center in Carson, Calif., until the $2.6 billion facility in Inglewood opens in 2019.
Photo courtesy of USA Today Sports Images.
Follow @PFRumors