The Raiders have been building momentum towards a Las Vegas move, but they could be hitting a snag. Casino magnate Sheldon Adelson is not happy with what he perceives as changes to the stadium deal and he is threatening to walk.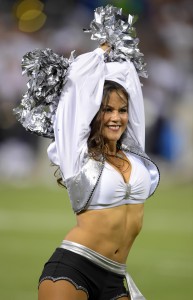 [RELATED: Goodell May Exert Influence In Las Vegas Vote]
"I negotiated to bring in the Oakland Raiders, an NFL football team from Oakland, because they don't have a stadium there, that I would build a stadium and rent it out to the Oakland Raiders," Adelson told Reuters' Ari Rabinovitch. "They want so much. So I told my people, 'Tell them I could live with the deal, I could live without the deal. Here's the way it's gonna go down. If they don't want it, bye-bye."
The Raiders' Las Vegas project took a major leap forward last week when Nevada's governor OK'd a bill that would increase hotel taxes and reroute those additional funds to the new stadium. Adelson, meanwhile, has pledged up to $650MM toward building the stadium. If Adelson were to pull out, the Raiders and the state of Nevada would have to scramble for a new billionaire partner.
Photo courtesy of USA Today Sports Images.
Follow @PFRumors