Lane Johnson's fight isn't over, even after an unsuccessful appeal of his 10-game suspension. The Eagles lineman has reportedly filed charges against both the NFL and the NFL Players Association with the National Labor Relations Board, attorney Steve Zashin told ESPN's Adam Caplan (via ESPN's Tim McManus). Albert Breer of TheMMQB.com passes along more specifics on the charges (via Twitter). Johnson filed unfair labor practice charges against the NFL and NFLPA with the NLRB. The 26-year-old also filed a claim against the Players Association with the Department of Labor.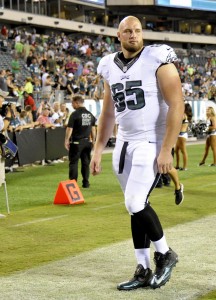 Mike Florio of ProFootballTalk.com believes the issue was likely sparked "from accusations Johnson made about the accuracy of information provided to players regarding banned substances." The NFLPA has since denied Johnson's assertions, while the lineman's lawyers have pushed the Players Association to investigate why news of the suspension was originally leaked to the media.
"During Lane's appeal, it became apparent that the written words in the collectively bargained Performance-Enhancing Substances ("PES") Policy, under which Lane was disciplined, are meaningless," Zashin said in a statement (via NFL.com's Albert Breer on Twitter).
"The PES Policy, as written, guarantees rights, protections and due process to players in recognition of the enormous consequences of discipline.
"The NFL and the NFLPA have undermined these protections leaving the players -including Lane — with a hollowed-out process devoid of any protections. The actions of the NFL and NFLPA violate federal law.
"Lane trusts that he can get a fair hearing with the NLRB and the DOL."
We first learned of Johnson's 10-game suspension back in August. Johnson immediately attributed the positive test to contaminated amino acids, as the lineman said he had confirmed the supplement's contents with an NFLPA-approved application. After a month-long appeal process, the suspension was ultimately upheld. That meant Johnson's suspension began in mid-October, preventing the lineman from taking the field until Week 16.
This was Johnson's second career ban. The lineman was also suspended four games in 2014 after testing positive for performance-enhancing drugs. The former first-rounder inked a five-year, $56.26MM ($21MM guaranteed) extension with the Eagles back in January.
Photo courtesy of USA Today Sports Images.
Follow @PFRumors