Tony Romo will be active this Sunday for the first time all season, but as Cowboys owner Jerry Jones announced over the weekend, Romo will serve as rookie quarterback Dak Prescott's backup rather than as the club's starter. In an extremely impressive statement, Romo today acknowledged his new role, and vowed that he would act not as a distraction, but as a mentor.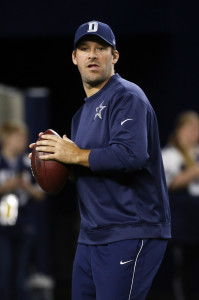 [RELATED: Cowboys Won't Give Up On Randy Gregory]
"[F]ootball is a meritocracy," said Romo (video link). "You aren't handed anything. You earn everything every single day single day, over and over again. You have to prove it. That's the way that the NFL, that's the way that football works. A great example of this is Dak Prescott and what he's done.
He's earned the right to be our quarterback. As hard as that is for me to say, he's earned that right. He's guided our team to an 8-1 record, and that's hard to do. If you think for a second that I don't want to be out there, then you've probably never felt the pure ecstasy of competing and winning. That hasn't left me."
Romo, who referenced the difficulty of facing injury for two consecutive seasons, seeing a successor emerge, and hearing whispers that his career may be nearing its end, admitted that this season has been "the darkest it's ever been" (from a personal level), and confessed that being sidelined can lead one to feel like an outsider. Additionally, Romo conceded that watching the Cowboys succeed without him is "not always easy to watch," but made clear that he won't force the club's hand as they choose their quarterback going forward.
Photo courtesy of USA Today Sports Images.
Follow @PFRumors