There has been rampant speculation about the job security of Bills head coach Rex Ryan. While the boisterous coach could be ousted at the end of the season (or, perhaps, just before the end of the season), the man who built the roster is apparently safe. Bills sources tell Adam Schefter of ESPN.com that general manager Doug Whaley is not in jeopardy of losing his job.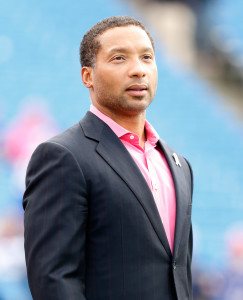 The Bills are 6-7 and have only a 2% chance of making the playoffs, according to Five Thirty Eight's projections. In all likelihood, the Bills' postseason drought will extend to 17 seasons and Whaley has been in charge of operations for the last four. Apparently, the Pegulas are comfortable with the way things are going in the front office.
Of course, things might be different in Buffalo if not for the rash of injuries that has plagued the team all year. The Bills were highly-praised for their draft haul this year when they landed defensive end Shaq Lawson and linebacker Reggie Ragland in the first two rounds. Whaley anticipated having both in the starting lineup from the get-go, but both suffered serious injuries and Ragland never even made it to the field this season. When you then factor in the time missed by Sammy Watkins, LeSean McCoy's troublesome hamstring, and the string of defensive backs that have gone down with various maladies, it's almost hard to believe that the Bills are near the .500 mark.
One could argue that Ryan also deserves some slack given the team's awful luck this year, but it doesn't sound like he'll be given another chance. If Ryan is canned, the Bills will be moving on to their sixth head coach since 2009.
Photo courtesy of USA Today Sports Images.
Follow @PFRumors