It's been less than a week since Jeff Fisher was fired as the head coach of the Los Angeles Rams. Since then, we've heard plenty of rumors regarding potential replacements, but we haven't heard anything from Fisher himself.
Until today. The long-time coach sat down with Fox Sports' Charissa Thompson to discuss the firing, his two-year extension with the franchise, and the selection of rookie quarterback Jared Goff during this past year's draft. We've compiled all of those quotes below: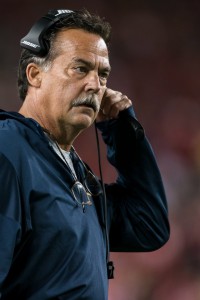 On why he was ultimately fired: 
"Bottom line is I didn't win. I didn't win enough games. In a new market, that's important and I'll take responsibility for that."
On whether he was surprised by the firing:
"I had just recently signed an extension. I knew things were getting tough, I knew that, but I didn't anticipate this. I always thought, depending on what happens the last three weeks, that there may be that potential with the season being over, but I was a little caught off guard with the short week."
On that two-year extension, which was reported in early December despite being signed during the offseason:
"It was never my place to announce the extension, so somehow it got out. So then that became an issue. None of it was handled appropriately in my opinion. In this day and age, the successful teams in the National Football League are tight-knit, they work together, and they stay quiet. They don't leak things. That was a frustration of mine."
On whether the draft choice of Jared Goff was his own:
"Yes. It was our choice. It was unanimous. We went up [in the draft] to be in position to get that quarterback that we needed."
On why the team waited until late November to start the rookie:
"We did not want to rush Jared. I made the decision prior to the Jet game, in which we won, to go ahead and start Jared the next week. He's an outstanding young man and he'll be the face of this franchise."
On the Rams' offensive woes:
"I have to take responsibility from the coaching side in that we just didn't get it done, bottom line. When you're 32nd in the league in offense every year, there's an issue."
On what he ultimately wants going forward:
"I want a chance to play the Rams."
Photo courtesy of USA Today Sports Images.
Follow @PFRumors