Although Josh McDaniels' first foray into the head-coaching ranks did not go well, he's been a sought-after candidate in recent years. The Patriots OC has passed on such advances but, according to Ben Volin of the Boston Globe, may have changed his mind this time around.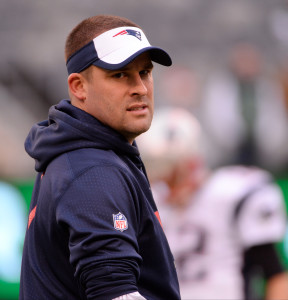 McDaniels is likely to accept a head-coaching position during this latest cycle of hires, Volin writes, and has already been linked to the two available positions — with the Rams and Jaguars.
Volin notes some talk has surfaced about McDaniels going with Jimmy Garoppolo in a package deal-type arrangement with the Patriots' current backup quarterback, but that might not be too realistic. Instead, the 40-year-old OC values ownership, a team's organizational structure and overall talent on a roster. The Jaguars and Cardinals — if 64-year-old Bruce Arians decides to move on after his health scare earlier this season — strike Volin as the best fits for McDaniels despite potentially neither having a long-term quarterback option on their respective rosters presently.
McDaniels was hesitant last year when his name surfaced on the coaching carousel, keeping a low profile during the Patriots' playoff run, never interviewing for the Dolphins or Titans' positions despite interest from those organizations. He said earlier this season he'd "love to be" a head coach again, citing the scarcity of these jobs. Volin, though, adds that it should not be expected McDaniels will take a job in the AFC East or with another Patriots rival, pointing to the Colts and their potential opening as likely being off the table.
Ruling out the Bills and Colts, the Bears, 49ers and Chargers — and McDaniels' hometown Browns — may have openings. Although, Volin believes Mike McCoy will survive Black Monday and receive a fifth year with the Bolts. McDaniels has presided over most of Tom Brady's extensive late-career peak and would figure to be an option as Bill Belichick's successor due to having so much experience in New England, but nothing has linked the longtime Pats boss to retirement in the near future, so McDaniels will continue to come up in job searches as a coveted offensive mind.
The longtime OC went 11-17 with the Broncos in 2009-10, serving as a key personnel figure in that span as well before being fired in December of '10.
Photo courtesy of USA Today Sports Images.
Follow @PFRumors