Already set for a possible suspension from the NFL in 2017, Patriots wide receiver Michael Floyd could also face a mandatory 45-day jail sentence for his Dec. 12 DUI arrest in Scottsdale, per WEEI.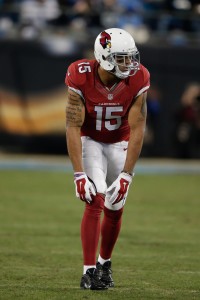 At the time of his arrest, Floyd had a blood alcohol level of .21, which is more than twice the legal limit of .08. Moreover, given that it exceeds .2, it qualifies as a Super Extreme DUI under Arizona law. In addition to serving jail time if convicted, Floyd would have to install an alcohol monitoring device in his car and avoid drinking alcohol for 90 days. Alcohol has long been a problem for Floyd, who had a previous DUI arrest while at Notre Dame in 2011.
Floyd's latest arrest, video of which leaked via TMZ on Tuesday, led the Cardinals to release the fifth-year man and 2012 first-round pick. Cardinals owner Michael Bidwill then told the team's radio network Sunday that Floyd showed "no remorse" and "was unapologetic," which made it easier for the franchise to move on from him (via Kent Somers of the Arizona Republic). The Patriots subsequently claimed Floyd on waivers, and head coach Bill Belichick indicated Wednesday that the latest details of the 27-year-old's arrest won't affect his standing with the team.
"Yeah, we were aware of his situation when we claimed him," Belichick told reporters, including Mike Reiss of ESPN.com. "He's in an ongoing legal situation I'm not going to comment on."
Floyd practiced with the Patriots on Wednesday and might debut with the AFC East champions Sunday against the Jets. While Floyd could help the Pats' offense as they vie for a fifth Super Bowl title in the Tom Brady/Belichick era, his legal issues will surely damage his stock if he gets to free agency in the offseason. On a less serious note, he has also experienced a dip in production this year, having caught 33 of 71 targets for 446 yards and four touchdowns.
Photo courtesy of USA Today Sports Images.
Follow @PFRumors